Saturday, September 20, 2014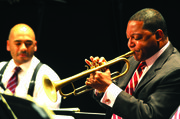 If you go
The Jazz at Lincoln Center Orchestra with Wynton Marsalis performs at 7:30 p.m. Wednesday at the Lied Center, 1600 Stewart Drive.
Tickets are $35 to $50 for adults or $19 to $26 for students and youth.
Purchase tickets online at lied.ku.edu or in person at the Lied Center Ticket Office. Reach the Ticket Office at 864-2787.
The Jazz at Lincoln Center Orchestra led by trumpet player Wynton Marsalis already had planned its fall touring route when it tacked on a Lawrence performance at the beginning.
That was thanks to the Lied Center's new executive director's connections.
Before coming to Kansas University in January, Derek Kwan's job was as vice president of concerts and touring at Jazz at Lincoln Center in New York City.
Kwan was able to schedule a performance by the Orchestra Wednesday evening at the Lied Center. And he said audiences are in for a musical treat.
The Orchestra — a 15-piece big band featuring the top soloists of today's jazz world — will perform a repertoire that focuses on three great composers, Kwan said. Duke Ellington is a jazz legend, Art Blakey helped many young musicians including Marsalis get their starts, and Thelonious Monk is known for his melodies' quirky nature, Kwan said.
"It's going to be a really great variety of music," he said, adding, "We're going to get them when they're fresh."
The last time the Orchestra performed in Lawrence was about 15 years ago, Kwan said.
In addition to Wednesday's public performance, Marsalis is scheduled to give a master class for the KU Jazz Ensemble on Thursday. The Lied Center also invited local student musicians to the Orchestra's pre-show sound check and rehearsal and a question-and-answer session.
Marsalis himself was born in New Orleans, got his first trumpet on his sixth birthday and performed with the New Orleans Philharmonic when he was barely a teen, according to his biography.
His musical career and fame burgeoned from there.
Marsalis has since transcended from artist and composer into a "cultural icon," Kwan said.
In the early 1980s he was the first artist to win a Grammy in both jazz and classical categories in the same year, a feat he repeated the following year. He's won a Pulitzer Prize for music, been a United Nations Messenger of Peace and broken into mainstream culture as a CBS News Cultural Correspondent.
"He has stood the test of time," Kwan said.
Jazz at Lincoln Center calls the art form a metaphor for democracy.
"Because jazz is improvisational, it celebrates personal freedom and encourages individual expression," the group's mission statement says. "Because jazz is swinging, it dedicates that freedom to finding and maintaining common ground with others. Because jazz is rooted in the blues, it inspires us to face adversity with persistent optimism."
More like this story on Lawrence.com