Tuesday, September 23, 2014
Whether your day was stellar or in the cellar, there's nothing like a treat after a hard day at school or work.
Now that September is upon us, a lot of those treats might be apple-based. Throw in a little cream cheese and a lot of butter, and your apples will put a whole new spin on "wow."
Apple Walnut Tart
For the crust
2 cups unbleached flour
1 cup unsalted butter, softened
1/4 teaspoon salt
1/2 cup packed brown sugar
For the filling
8 ounces cream cheese
1 large egg
1 teaspoon vanilla
1/4 cup sugar
For the topping
1 large Braeburn apple
1 tablespoon lime juice
1 tablespoon butter
1/4 cup sugar
3 "shakes" cinnamon
1/3 cup chopped walnuts
This one takes a little more assembly time, but judging by the way my co-workers' eyes rolled back in their heads, it's worth it. Preheat your oven to 350 F and line a 9-inch springform pan with a parchment circle.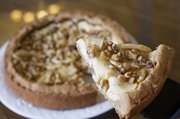 In a medium bowl, add the salt and brown sugar to the flour and stir. Rub in the cup of butter until a dough forms. It'll be a little sticky, but nothing you can't handle. Press, pat and smoosh the dough into your prepared pan. Handy hint: lay a piece of waxed paper over the dough while you shape it. Press the dough up the sides of the pan about an inch deep, making sure that it doesn't get too thin in spots.
Peel, core and quarter the apple. Slice the quarters into thin wedges and set them aside. In a small saucepan, stir the lime juice, tablespoon of butter, 1/4 cup of sugar, and the cinnamon over low heat. Once the butter is melted, dump in the apple slices. Stir (gently) and cook for about 3 minutes, making sure all of the slices get coated with the sugar mixture. Remove from heat and set aside. Try not to sample more than a taste.
Stand mixer time! Toss in the cream cheese and whirl it around until it's sort of fluffy. Having your cheese at room temperature will help with this part. Add the egg, vanilla and remaining sugar; blend on medium speed until everything is nice and smooth.
Scrape the cheese mixture into the prepared crust, smoothing it out with a rubber spatula. Arrange the apple slices in whatever pattern strikes your fancy. I went with concentric circles, but you might have a preference for side-by-side columns. As long as the apples are on the tart and you're happy, you did it right. Sprinkle the chopped walnuts over the apples; try not to leave too many naked spaces.
Pop the pan into the oven and set your timer for 40 minutes. When the tart is done, let it cool for half an hour or so, then transfer to the flattest plate you can find. I use a pizza pan; works like a champ. Serve warm or cold. Any leftovers (yeah, right) should be stored in the fridge.
Enjoy!