Wednesday, September 24, 2014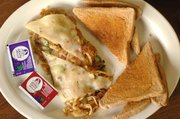 We didn't really intend to go on an omelet streak. But when two new diners open in a matter of weeks, both serving odd omelets, what's Off the Beaten Plate to do? (Ladybird Diner's Mac N' Cheese Omelet recently appeared in this space.)
This one is an omelet in name and shape only. Instead of eggs, a roll of hash browns envelops peppers, onions, cheese and ham.
Where to get it: Haskell Avenue Cafe, 1910 Haskell Ave. Note: The sign outside still says Genia Lyns Cafe.
What you'll pay: $7.50. That includes toast and your coffee.
Try it with: Gravy? A little dish of it comes on the side. For something sweet, get one of their giant iced cinnamon rolls.
Also on the menu: Biscuits and gravy, pancakes, burgers, chicken-fried steak (sandwich or dinner), meatloaf, fried chicken and hot beef, pork or turkey sandwiches.
— Off The Beaten Plate highlights some of the more exotic, oddly named or inventively concocted dishes from local menus. Know of an offbeat item we should check out? Email reporter Sara Shepherd at sshepherd@ljworld.com. Follow her at Twitter.com/saramarieshep.