Wednesday, September 24, 2014
Even the most dedicated gardeners need a break from the garden once in awhile, and the upcoming Kaw Valley Farm Tour offers the perfect opportunity to see what else is growing in the area.
The self-guided tour includes fruit, vegetable and herb farms; vineyards and wineries; greenhouses; honey and fiber producers; meat and egg producers; and a dairy. Always the first full weekend in October, this year's tour falls on Oct. 4 and 5. Tourgoers are invited to stop by the participating farms of their choice between 10 a.m. and 6 p.m. on tour days. Tickets are just $10 per carload.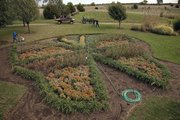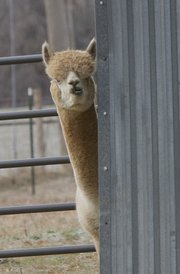 Besides an opportunity to teach kids about food, many tourgoers are surprised to see the variety of produce and animals. At several of the farms, visitors can hop on a hayride and get a rolling tour of the farm. At others, alpacas, goats, pigs, dairy and beef cattle, chickens, and turkeys will be just on the other side of a fence. My favorites, of course, are the greenhouses, orchards, high tunnels and hillsides full of vegetables, strolling through the lavender fields, and afternoons in the vineyards.

Tickets can be purchased at any of the participating farms on the weekend of the tour or in advance at: The Merc, 901 Iowa St.; Lawrence Visitor Information Center, 402 N. Second St.; K-State Research and Extension-Douglas County, 2110 Harper St.; Downtown Lawrence Farmers Market; Cottin's Hardware and Rental, 1832 Massachusetts St.; or online at kawvalleyfarmtour.org.

Guests are also invited to attend three special events in addition to the tour itself. The first is a class and dinner on the evening of Oct. 3, taught by chef Paige Vandegrift and sponsored by The Merc. The Farm Tour Dinner requires pre-registration through The Merc.
The second and third special events are farm breakfasts on Oct. 4 and 5.
Saturday's breakfast is hosted by Vesecky Family Farms, 1814 North 600 Road, Baldwin City, and features farm fresh eggs, sausage and sweet rolls. Food will be served from 8:30 a.m. to 10 a.m. and is first come, first serve. Adult meals are $5 each and children's meals are $3 each.

Sunday's breakfast is hosted by Pendleton's Country Market, 1446 East 1850 Road, Lawrence, and is a fundraiser for 4-H youth to attend a leadership event in Washington, D.C. Food will be served from 9 a.m. to noon. Adult meals are $10 each and children's meals are $5 each.

The tour is a break-even educational event: money raised from ticket sales covers the cost of printing maps, promotional materials and other costs associated with organizing the event.
Participating farms:
• Ad Astra Alpacas, Claudia and Bob Hey
• Amy's Meats, Amy and Dan Saunders
• Blossom Trail Bee Ranch, Richard Bean
• BlueJacket Crossing Vineyard & Winery, Pep Selvan
• Crooked Post Winery, Lori and Kevin Henderson
• Davenport Orchards, Vineyard & Winery, Greg Shipe and Charlee Glinka
• Gieringers Orchard, Frank and Melanie Gieringer
• The Henrys' Plant Farm, Roy and Marcia Henry
• Holy-Field Vineyard & Winery, Michelle Meyer, Les Meyer
• Hoyland Farm, Bob, Joy and Avery Lominska
• Iwig Family Dairy, LLC, Tim and Laurel Iwig
• Juniper Hill Farms, LLC, Scott Thellman
• Kerby Pumpkin Patch, Jim and Terri Kerby
• Lamborn Farm, LLC, Joseph Lamborn
•.Manna Meadows, Brian and Sharon Heimes
• Marie's Alpaca Acres, Marie Blankenship
• Oz Highland Cattle, John and Debbie Jenkins
• Prairie Meadow Greenhouse, Amy Nayloe and Mike Weinbrecht
• Pendleton's Country Market, John and Karen Pendleton
• Raymond Crist/Dee Hay Farm
• The Red Tractor Farm, Jessica Pierson and Jen Hemphrey
• Shooting Star Equine, Careen Cain
• Vertacnik Orchard, David and Wendy Vertacnik
• Vesecky Family Farms, John and Sharon Vesecky, William and Joanna Vesecky
• Washington Creek Lavender, Jack and Kathy Wilson
• White Tail Run Winery, LLC, Dan and Nancy Fuller
• Wohletz Farm Fresh, Jerry and Jane Wohletz
— Jennifer Smith is a former horticulture extension agent for K-State Research and Extension and horticulturist for Lawrence Parks and Recreation. She is the host of "The Garden Show" and has been a gardener since childhood. Send your gardening questions and feedback to Lawrence Living@ljworld.com.
More like this story on Lawrence.com