Wednesday, September 24, 2014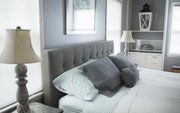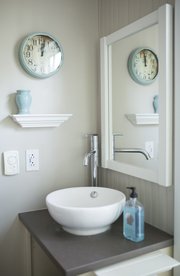 Other useful guest room accessories
• Trash can
• Tissues
• Mirror
• Water pitcher or bottled water
• Simple snacks
• Fan or space heater
• Lint roller
Guest toiletry basics
• Shampoo, conditioner and soap
• Toothbrush, toothpaste and floss
• Hairbrush
• Razors
• Cotton swabs
• Deodorant
• Lotion
• Feminine products
• Pain reliever
• Bandages
Opening your home to visiting family and friends is a hospitable gesture that saves your guests the expense of staying at a hotel. But ensuring the space you provide guests is welcoming, comfortable and convenient takes forethought and little bit of effort.
Here are some tips for creating a guest room that will make your hosting experience rewarding and will leave your visitors feeling well-rested.
A good night's sleep
The foundation of any comfortable guest bedroom is, naturally, a good bed. Tena Santaularia, owner of Daisy Hill Rental Properties in Lawrence, regularly hosts guests through the lodging website Airbnb.com, and has spent a lot of time creating welcoming guest spaces. Santaularia said she likes to invest in a good mattress and headboard, so that a guest room has a solid foundation. If space and budget don't allow for this, an air mattress (one that actually holds its air) is a fine solution. When it comes time to make up a guest bed, nice sheets are important. High-quality sheets at affordable prices are not hard to find, Santaularia said.
"TJ Maxx and Tuesday Morning are my friends," Santaularia said. "You don't need to spend $300 on sheets."
Santaularia said she typically provides four foam sleeping pillows on guest beds — two soft and two hard — and keeps the decorative pillows to a minimum.
"You don't want a guest to have to think about where they are going to put the decorative pillows when they sleep," Santaularia said. "Their mind is full and they don't need a lot of distraction. It's best to keep it simple and clean."
In order to streamline the process of making up a guest bed, Alison Hodgson, a writer for the home decorating website Houzz.com, suggests setting aside a set of linens and pillows specifically for guests, and then storing them in a plastic bin so they stay clean and accessible.
Once the bed is covered, a host should consider making the rest of a guest room comfortable and convenient. Santaularia suggests stocking the closet with an extra blanket, pillow and towels, and also provide hangers. The closet should be as empty of the host's personal belongings as possible.
"People don't really want to see your kids' leftover clothes or family heirlooms. They want to feel like they own that space for a few days," Santaularia said.
A comfortable chair, a clear, flat surface to collect personal belongings, and a place to set a suitcase are also guest room essentials, Santaularia said. Because she does not like the look of traditional luggage racks, Santaularia often provides a padded bench or an ottoman that can double as a platform for luggage. She also likes to place a decorative plate or basket in the room where people can store their keys, phone and loose change.

Once the basics of a guest room are covered, there are a number of things a host can put in a room that provide an extra dose of convenience and an extra touch of hospitality. Santaularia said she likes to write her guests' names on a chalkboard welcome sign, and also provides the Wi-Fi password for the home.
Approach to style
When it comes to creating a style for a guest room, there are two schools of thought, Santaularia said.
The first is that decoration should be simple and the colors neutral, so that the room will appeal to anyone. Santaularia said she tends to use this approach, but adds pops of color with a pillow, a throw or some fresh flowers from The Merc or Lawrence Farmers' Market.
The second school of thought on guest room style is that people like to experience something different when they travel, so a guest room is a great opportunity to do something adventurous and fun.
"If you've been wanting to experiment with a color, go for it," Santaularia said.
Not all hosts have the space to dedicate an entire room to a permanent guest area, and that's OK. With a little creative thinking, a variety of spaces can function as a comfortable temporary spot for guests.
Making an inviting guest space really just comes down to providing a clean and comfortable area that a guest can call their own for a few days, Santaularia said. The best way to ensure that a guest space is comfortable is to sleep there yourself for at least one night to gain insight about what works and what could be improved.
"I will sleep in a room and think very consciously, not just about what's pretty, but about where I would put my keys and cellphone; where you see the sun come up and go down; where you can hear noises from the rest of the house," Santaularia said.
A final piece of advice that Santaularia swears by: clean up the guest space as soon as your guests leave.
"Don't put it off — that way you're ready for more guests should someone call and say they're stopping through town this weekend," she said.
The guest bathroom
Providing fresh towels and an ample supply of toilet paper should be a given for anyone hosting guests. Beyond that, it is important to remember that guests are sometimes hesitant to ask hosts for personal care items they may have forgotten. Assembling a basket of toiletries, or stocking the bathroom that they will be using with a variety toiletry items, is a thoughtful touch.