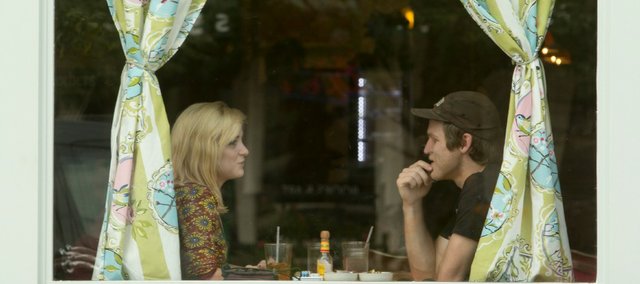 Wednesday, September 24, 2014
It's mid-afternoon on a Tuesday, and Meg Heriford is dealing with a "pie emergency."
She's in the center of the prep kitchen at her fledgling restaurant — surrounded by pies in various stages of progress, cocktail apron caked in flour — rolling out discs of dough, hand-crimping crusts and popping one tin after another into the oven.
Ladybird Diner nearly sold out of pie over breakfast and lunch, and if she doesn't come up with more pronto, she's going to have an upset dinner crowd on her hands.
"We'll try to make it through the evening without breaking anyone's heart," Heriford said, explaining that the appetite for Ladybird's handmade pies has been ravenous but varied from day to day. "We're still trying to figure out the public psychology about this."
Ladybird has been hopping since it opened about a month ago at 721 Massachusetts St. The restaurant is open 7 a.m. to 10 p.m. (9 p.m. on Sundays) every day but Monday, with the whole menu available all day, plus nightly blue-plate specials.
Heriford said the vision was to serve up favorites from a bygone era, the kind of stuff your grandparents reminisce about. Those foods take on a modern-Lawrence tinge in an atmosphere with a little kitsch in the decor and more than one elaborately tattooed server.
"This food is supposed to be nostalgic. It's supposed to take you back to a time when food like this was on the table every night," Heriford said. "It turns out, everybody loves it."
At Ladybird, those old-fashioned favorites include soda fountain drinks such as root beer floats and chocolate phosphates, a pimiento cheese sandwich, chicken-fried steak, burgers, pancakes, omelets and cheesy grits with gravy.
The menu also has twinkles of gourmet (rum raisin French toast), silly (tuna-salad sandwich with potato chips "smushed" on top) and Tex-Mex (breakfasts that involve tortillas, jalepeños and Cotija cheese, with beans on the side).
One of the most popular dishes so far, said kitchen manager Tim McGregor, is Ladybird's hot beef sandwich.
That would be seasoned beef shoulder — braised for six or seven hours — over Texas toast and mashed potatoes, all smothered in brown gravy.
McGregor and Heriford both came from 715 restaurant, where Heriford started baking pies-of-the-day at the suggestion of owner/manager Matt Hyde, who also is among the co-owners of Ladybird Diner.
From the first one she churned out — buttermilk, she recalls — the pie was a big hit at 715, she said.
The momentum seems to have continued at Ladybird, where Heriford said she's gone through as many as 60 pies in one day.
Leading up to the recent pie emergency at Ladybird, selections du jour had been triple-berry, spiced peach, coconut cream and a dark, fudgy chocolate cream. For dinner, there would be salted-caramel apple with Fieldstone Orchard apples, plus more berry and peach.
Other pies-of-the-day have included flavor-twists such as strawberry with basil and balsamic vinegar and orange-chocolate cream.
The pie is homestyle, imperfect and obviously handmade. But unlike that pie your grandmother made and left on the counter at home, nobody at Ladybird is policing what time of day you're allowed to eat it.
"In all my years at restaurants, I've never seen this many people have dessert at lunch," Heriford said, "and definitely not at breakfast."