Saturday, September 27, 2014
Ten years ago, it's doubtful anyone would have guessed the band Tegan and Sara would ever have much in common with a top-40 pop star like Katy Perry.
But with the twin sisters currently serving as Perry's opening act, Tegan Quin isn't shy to assert that they have more in common with Katy Perry than most other rock artists they've been touring with to support their latest record, "Heartthrob."
Tegan cites their recent tours opening for The Black Keys and The Killers as prime examples.
"Ultimately at our foundation, Sara and I are writing pop songs," she says. "We have more in common with Katy Perry than we do with those bands and those audiences."
A good example of this is the bubbly pop song "Everything is Awesome!!!" the band performed along with The Lonely Island that was featured heavily in the hugely successful "The Lego Movie." It's the kind of song that would have been nearly impossible to imagine Tegan and Sara doing 10 years ago.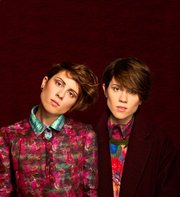 If you go
Tegan and Sara will perform at 8 p.m. Wednesday at Liberty Hall, 644 Massachusetts St. Tickets cost $35 in advance and $40 on the day of the show, and are available at Ticketmaster outlets and the Liberty Hall box office.
Having an opening slot on a tour can sometimes be disheartening, Tegan says, but with news that they are on the bill, the response has been increasingly positive and they've played to a full house at every venue. Tegan now wishes they could extend the tour.
"The people who (go) to see Katy Perry are more like us than when we go play with big rock bands and the audiences are predominantly male," Tegan says. "It's funny that we never really thought that through."
Tegan and Sara will headline their own show at 8 p.m. Wednesday at Liberty Hall, playing recent synth-heavy, electro-pop hits while also revisiting the moody indie rock songs that jump-started their career.
In September, Tegan and Sara celebrated the 10-year anniversary of their fourth album and commercial breakthrough, "So Jealous." For the past two months, they have spent time digging through old photos and any memorabilia to reflect on the decade. They're assembling a deluxe edition of the album titled "So Jealous X" that will include a hefty book and three discs that contain unreleased demos and b-sides, new remixes and covers.
"'So Jealous' gave us the confidence to take bigger risks with our music so I'm really grateful to be celebrating 10 years," Tegan says. "It's like, yeah, we did it. We followed our path."
While the Katy Perry fans are now at their feet, Tegan says she feels like it's finally "cool" to like Tegan and Sara. It's been an interesting evolution of the way their music has been embraced, and contrary to popular belief, she says, it wasn't the gay community (both Quin sisters are openly gay) or women that were early followers.
"People always said, 'It's only women and gay people who like Tegan and Sara,' but that just wasn't true,'" Tegan says. "It was people like Jack White and The White Stripes that were covering our music," she says. "It wasn't gay artists; it was men. It was an indie rock, male-dominated industry that supported us first."
It's been a time of reflection, not only of their career, and themselves, Tegan says, but the changes in the industry as a whole. "So Jealous" was the first record they took the reins on as young artists.
"It used to be, pay your dues, listen to your elders and relinquish as much as control as other people saw fit, and we really fought against that," Tegan says. "I look now and see how much ownership artists are taking and it's really changed.
"Artists are being empowered way earlier to take control and be present in their career. When we were doing that in early 2000s, it was like super counterintuitive. People couldn't believe that we cared about the business."
The constant throughout their career, however, has been their push to create music with universal themes to make strong connections with audiences across the board.
"We want them to listen to the record and feel like we're singing about them," she says. "We're still really reliant on this idea that we're no different than our audience and we don't want them to lose touch with that."
Tegan and Sara are eager to spend 2015 in the studio, as they just re-signed their record deal. "So Jealous X" is scheduled for a December release, and the band is planning a series of collaborations during the next year to keep the momentum going while they get into the full-swing of recording their next album, to be released in 2016.
"We're just starting to write songs and the first few are so awkward, like I've forgotten how to make music," she says laughing. "We're extremely ambitious and we're also workaholics so no one should fear that we're going away completely because that's just not who we are."