Tuesday, September 30, 2014
For Kansas University alumna Corine Wegener, saving the arts has a literal application in her profession as a cultural heritage preservation officer.
A modern-day "monuments woman," Wegener travels to war-torn countries, and much like the Monuments Men who traveled to Europe to recover art stolen by the Nazis, she helps museum staff reclaim and protect cultural treasures.
"Our cultural heritage is how we reach out to our past," Wegener says. "It's where people can find hope and resiliency after a terrible disaster."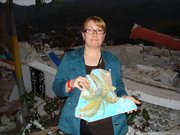 Often people ask her how she can focus on these ancient materials during disasters when civilians are suffering. Wegener quotes a colleague she worked with in Haiti during the 2010 earthquake to describe the importance of preservation:
"The dead are dead, we know that, but without our culture how can we go on living?"
Wegener is delivering a lecture titled "From Berlin to Baghdad: When Art Historians Go to War" at 5:30 p.m. Thursday in the Spencer Museum of Art auditorium. She is the 2014 recipient of the Franklin D. Murphy Distinguished Alumni Award.
"No one who has graduated from our department has had the diverse professional experience that she's had," says Linda Stone-Ferrier, chairwoman of the art history department. "It's such a unique blend of experience and making the most of professional opportunities, which have ultimately made an extraordinary difference internationally."
Wegener was a curator at the Minneapolis Institute of Arts in 2003 when she was about to be deployed as a civil affairs officer to Afghanistan. Things quickly changed when she heard reports of massive looting at the National Museum of Iraq; an estimated 15,000 items from Iraq's collection of Mesopotamian relics were stolen and the entire collection was damaged.
She managed to expedite orders to change her assignment to serve in Baghdad instead.
Wegener set to work for nine months with the Iraqi Ministry of Culture and assisting museum staff and law enforcement to recover 40 to 50 percent of the collection, including the Lady of Warka sculpture — known as the "Mona Lisa of Mesopotamia" — a 5,000-year-old carved marble female mask.
After returning from Iraq, Wegener realized how much work needed to be done in training civil affairs officers on cultural heritage preservation. In 2004, she retired as a major, and later founded the U.S. Committee of the Blue Shield — or the "Red Cross of culture" — to provide a network of contacts in places like Afghanistan, Iraq and the horn of Africa. It was created to support the implementation of the 1954 Hague Convention, an international treaty that requires countries to prevent the destruction of cultural property during wartime.
Her role as a cultural heritage preservation officer has taken her to Egypt, Mali and most recently Turkey, to facilitate training for curators in opposition-controlled areas in Syria.
"We were able to provide them with a workshop on emergency packing and crating techniques where you use readily available resources to try to save collections that had been damaged during bombing," she says.
Wegener is excited to speak with KU students about the emerging field, with opportunities in conservation, curating, archeology and cultural property law, she says.
"It's sad because I'm often only involved after something is damaged or destroyed, but I feel like if we study how these things happen, we may be able to turn things around in a more preventive, risk-reduction aspect, and save more," Wegener says.

"The level of awareness is easily 10-fold what it was since the Bamiyan buddhas were destroyed by the Taliban in 2001," Wegener says. "However, we still have issues of sectarian violence, intentional destruction of cultural sites and, in that respect, we have a long way to go."