Name: Nadia Sharifi
Age: 22
Hometown: Overland Park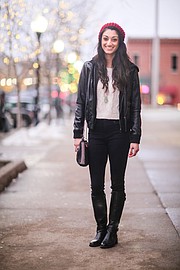 Time in Lawrence: Just visiting for the day. I moved to KCMO a while ago.
Relationship status: Newly single
Occupation: I work at a psychiatric hospital for children.
Dream job: Nurse practitioner
What were you doing when scouted? Shopping. I just bought an aroma therapy diffuser.
Describe your style: Probably edgy but mixed with classiness yet still comfortable.
Fashion trends you love: I currently love hoodies, beanies and combat boots, especially when it's cold outside.
Fashion trends you hate: I'm trying to stray away from leggings, which once was me. We have to step it up! I don't like it when you just blend in with the crowd because you end up looking like everyone else.
Fashion influences: My mother, honestly. She's a huge diva! We dress similarly and she looks out for me.
What would you like to see more of in Lawrence? More variety for gameday styles. I wish it would change a little bit more. I feel that everyone goes for the plaid or denim jean jacket. Throw a little black in there!
Tattoos or piercings: Piercings, yes. No tattoos.
Whom do people say you look like? Princess Jasmine
What type of music do you like? Underground (alternative) rap, (hip-hop) instrumentals that incorporate synthesizers and alternative/electronic music. Definitely not mainstream rap.
Tell us a secret: I love whiskey!
More like this story on Lawrence.com