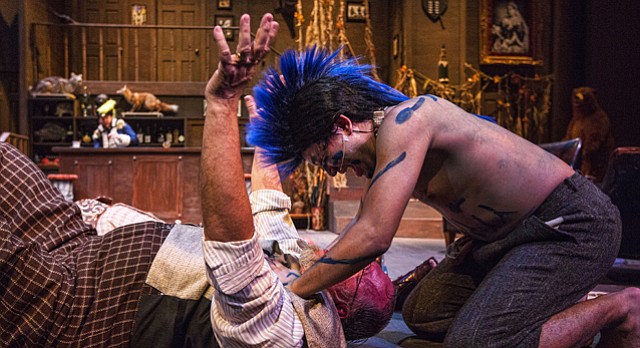 The year is 1879, and the esteemed scientists of the all-male Explorers Club are facing a very serious dilemma. Gathered in the group's London headquarters, the men must decide whether they'll allow a woman to join their ranks.
A small menagerie of dead animals adorns the wood-paneled walls. A fox, a badger, a water buffalo — they're all prizes from the men's expeditions, mounted and stuffed and brought back home to mother England.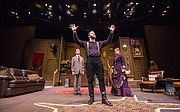 If you go
What: "The Explorers Club"
Where: Theatre Lawrence, 4660 Bauer Farm Drive
When: The play opens at 7:30 p.m. Friday and runs until April 26.
Cost: Tickets cost between $15.99 and $24.99. They can be purchased online or at the Theatre Lawrence ticket office.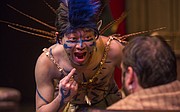 "And they're all looking down on these people who are self-described as a superior race, and thinking, 'you fools,'" says Carole Ries, director of Theatre Lawrence's newest play, "The Explorers Club," a madcap satire of Victorian England slated to open Friday at Theatre Lawrence, 4660 Bauer Farm Drive.
Approximately 10 stuffed animals on loan from Kansas University's Natural History Museum decorate the set, which calls to mind a pompous, grown-up version of a kids' clubhouse bearing a "no girls allowed" sign.

"It's making fun of Victorian times and how Britain felt entitled in the belief that everyone else in the world, particularly indigenous cultures, were savages, and that they should convert to the British ways," Ries says.
Set during a period in which the British Empire enjoyed almost-unchallenged world dominance, "The Explorers Club" pokes fun at the scholars who tried to justify their bigoted beliefs with religion or pseudo-science.

At one point, the patronizing Professor Sloane asks Luigi, a tribesman that female explorer Phyllida Spotte-Hume brought back to London from her expedition, if he has ever read the Bible. Because Luigi (not his real name, of course) doesn't speak English, the professor pantomimes licking his finger and turning the pages of an imaginary book, which Luigi gamely mimics without knowing what the Bible is.
"The male lead, Lucius, says, 'He's just repeating words he doesn't understand,' and Sloane says, "Well, that's good enough for the Church,'" recounts Ries. "I love that moment."
The 2013 comedy, penned by "Legally Blonde" lyricist Nell Benjamin, examines social issues like sexism and colonialism through a modern lens, following anthropologist Spotte-Hume as she attempts to gain entry to The Explorers Club.
Despite her qualifications — the play opens shortly after Spotte-Hume's return from the Lost City of Pahatlabong, which she "discovers" much in the way Christopher Columbus "discovered" America — she struggles to earn the respect of her male counterparts, who turn out to be silly idiots.

One explorer, Harry Percy, is a dimwitted "lug" of a man who unsuccessfully launched a mission to the nonexistent East Pole. Another, Professor Sloane, a so-called "archaeo-theologist," believes women are inherently devious and weak-willed, and hence would tarnish The Explorers Club name.

Only Lucius Fretway, the club's acting president, wants to admit Spotte-Hume, with whom he is smitten.
"I think she truly is more of a scientist like Darwin was. He wasn't exploiting what he looked for, he was just trying to learn," Ries says. "If there is a straight man in the play, it's Phyllida."
In Theatre Lawrence's production, actress Abby Hadel plays both Spotte-Hume and her uppity sister, Countess Glamorgan.
To avoid confusion, costumer Jane Pennington made sure to emphasize the "expense and luxuriousness" of the countess' clothing, while dressing Hadel in more conservative outfits as Spotte-Hume, often relying on reproduced Victorian-era dress patterns.
When the two go to meet the queen, however, Spotte-Humme opts out of her khaki explorer suits and instead wears a "rich" gown that would have been much more conventional for a lady of the time period.
"She's still very feminine and she's the object of [Lucius'] affection, so she can't be portrayed in really manly clothes," Pennington says. "You need to see that she, in spite of what she does in regards to exploring, is still a girl's girl."
The idea that Phyllida Spotte-Hume can forge ahead in a male-dominated field despite while retaining her femininity is a thoroughly modern concept, Ries says.
In a sublime coincidence, The Explorers Club, it turns out, actually exists. Founded in 1904 in New York City, a quarter-century after the events of the play, the real-life organization is still around today. But, echoing the attitudes of its fictional counterpart, the organization didn't admit women until 1981.
While one sister married a well-to-do count and spends her days being waited on by servants, the other leads expeditions through treacherous terrains and studies the customs of indigenous tribes.
But really, says Ries, they're not all that different. They just chose different paths in life.
"It almost feels like the same woman looking into the mirror — which way one could go and the other went," Ries says. "I think they're practically mirror images. They're doppelgangers."