Before the hundreds of photographic portraits that make up the Lawrence Inside Out are officially unveiled during this month's Final Friday, the Lawrence Percolator is inviting folks to help install some of the giant portraits with a wheat-pasting workshop April 19 at the Percolator.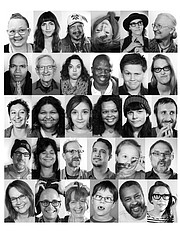 Lawrence Inside Out is a community photography project led by local artist and Percolator board member Rachael Perry. Perry has taken more than 600 black-and-white portraits of Lawrencians over the last year and asking participants what role art plays in their lives.
From 3 to 5 p.m. April 19, Lawrence Arts Center Printmaking Artist-in-Residence Tonja Torgerson will lead a wheat-pasting workshop/show installation at the Percolator, 913 Rhode Island St. Participants will paste some of the large Inside Out portraits on the outside of the Percolator building.
The rest of the portraits will start popping up at locations around town soon, including the Lawrence Public Library, the Lawrence Arts Center, the Watkins Museum of History, Van-Go Mobile Arts and others.
The Inside Out Project is also seeking volunteers to help install portraits at the following places and times:
• 10 a.m. to 2 p.m. Saturday, April 18, the warehouse that was formerly SeedCo Studios, 826 Pennsylvania St.
• 3-5 p.m. Sunday, April 19, the Percolator, 913 Rhode Island St. (in the alley behind the Lawrence Arts Center)
• 5-8 p.m. April 23, Lawrence Creates Makerspace, 512 E. Ninth St. (Ninth and New Jersey streets)
Volunteers are not required to bring anything, but are welcome to bring paint brushes, soft-bristle brooms and squeegees. Contact lawrencepercolator@gmail.com for any questions.