Wednesday, April 15, 2015
Name: Kristina Armstrong
Age: 20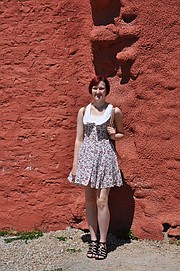 Relationship status: Single
Hometown: Manhattan
Time in Lawrence: Three years
Occupation: Barista and mime
Dream job: Probably an actress or an aerial silks teacher — it's giant silk ribbons that you do tricks on. You know, circus stuff.
What were you doing when scouted? Getting coffee at Signs of Life
Describe your style: Vintage and girly or super hippie bohemian.
Fashion trends you love: People trying
Fashion trends you hate: Nothing really; hate is a strong word.
Fashion influences: Retro things, like watching "Mad Men" and playing dress-up afterwards.
What are your favorite and least favorite things about Lawrence? I really like the people in Lawrence. It's welcoming like a small town but there's more to do.
Tattoos or piercings: Ear piercings — three on one side and two on the other because, well, one side didn't work out.
Whom do people say you look like? I get Kate Winslet sometimes on my dressier days.
What's your spirit animal? My mom says my spirit animal ran away.
Tell us a secret: I bought the new Taylor Swift album.
More like this story on Lawrence.com