Wednesday, April 22, 2015
Watch out, Lawrence: A riptide is bringing a boatload of comedians to town this weekend.
Harpoon Presents' second annual Riptide Comedy Festival kicks off Thursday at various locations across downtown Lawrence, bringing with it more than 25 comedians from New York to Los Angeles.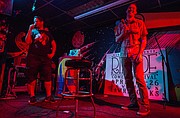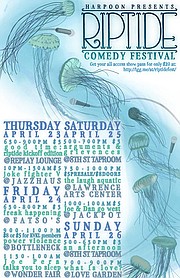 Festivities officially begin with a special edition of "Good Time," the local comedy collective's weekly showcase, from 6 to 9 p.m. Thursday at the Replay Lounge, 946 Massachusetts St.
This year's Riptide bears little resemblance to its first incarnation, says Zach White, the principal organizer behind the four-day festival.
"I think the philosophy behind this year's planning of deliberately mixing east and west adds an additional layer to it," White says.
"It's the concept of these huge waves of people coming in from the coasts and washing over Lawrence."
While the original Riptide featured mostly local comedians, this weekend's schedule skews toward comics who have built careers in major markets on the coasts but have yet to become household names nationwide.
Among the lineup: LA-based comedy group PowerViolence (founding members Whitmer Thomas and Clay Tatum write and star in FXX's animated series "Stone Quackers") and Dan Licata and Joe Pera, who together host a weekly showcase with Upright Citizens Brigade in New York City.

"A lot of comedians recycle the same stuff. They're all just like, 'Oh man, Tinder. Dating's hard. I don't like my job.' It's kind of boring," White says. "These guys have interesting perspectives."
Unlike other comedy festivals that allow submissions from potential performers, Riptide's organizers already had some names in mind when they began the planning process last year.
Anticipating the added expense of travel and lodging for out-of-town performers, Harpoon Presents turned to crowdsourcing to make the festival happen. The group's Indiegogo page has raised just over $2,000 so far, reaching its goal last week.
White says Riptide is following a wave of "DIY" comedy festivals that have emerged in recent years, citing the Omaha's Crom Comedy Festival and The Comedy Exposition in Chicago.
The Lawrence comedy scene has experienced some growth since White returned here in fall 2013 after spending a couple of post-grad years working as a journalist in Montana and New York City.
White first founded Harpoon Presents as a Kansas University student in 2008, but never had much time to devote to the group in his college days. That changed when he moved back to Lawrence and introduced the scene to the comedy infrastructure he observed in New York City.
Now, with more opportunities for local comedians to shine, "we are possibly the best city for comedy between Chicago and Denver," White says.
And with all the coastal comics streaming into town this week, White hopes Riptide will prove that to the rest of the country.
"I think Lawrence itself is a big contributor to that," he says of Riptide and what makes it special. "I think this is a weird town full of very creative people who are unusually suited to supporting creative endeavors like this one."
For more information about the events, including tickets and a full schedule, visit www.riptidefest.com.
Riptide Comedy Festival
Here are the events comprising this weekend's Riptide Comedy Festival. A pass for all 10 events is available for $20 on the festival's Indiegogo page Cover charges for individual events vary:
• Good Time: Riptide Kick Off Edition, 6-9 p.m. Thursday, Replay Lounge, 946 Massachusetts St.
• Joke Fighter V: Riptide, 10 p.m. Thursday, The Jazzhaus, 926 1/2 Massachusetts St.
• Freak Happening, 7-9 p.m. Friday, Fatso's, 1016 Massachusetts St.
• Power Violence, 9-11 p.m. Friday, The Bottleneck, 737 New Hampshire St.
• Joe Pera Talks You to Sleep, 11:30 p.m. Friday, Wonder Fair secret patio, 803 1/2 Massachusetts St.
• Arguments and Grievances, 5 p.m. Saturday, Eighth Street Taproom, 801 New Hampshire St.
• The Laugh Aquatic, 7-10 p.m. Saturday, Lawrence Arts Center, 940 New Hampshire St.
• Dan and Joe Go West, 10 p.m. Saturday, Jackpot Saloon, 943 Massachusetts St.
• An Afternoon at the Eighth Street Taproom, 5-7 p.m. Sunday, Eighth Street Taproom, 801 New Hampshire St.
• What is Love?, 7-9 p.m., Love Garden Sounds, 822 Massachusetts St.