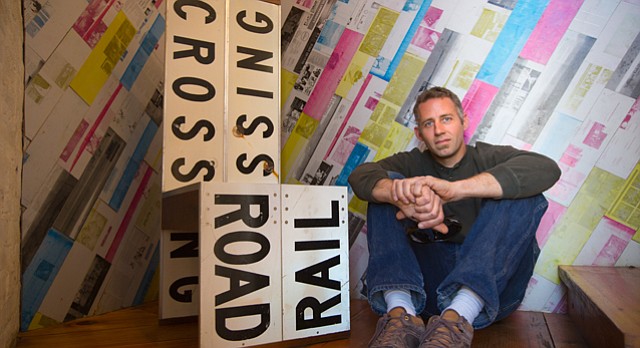 You can look, but you can't touch. It's a long-established rule at art museums and galleries around the world.
But a new exhibit at Decade coffee shop, 920 Delaware St., invites guests to do more than just view the approximately 25 handcrafted chairs displayed around the store.
Photo Gallery
The Chair Show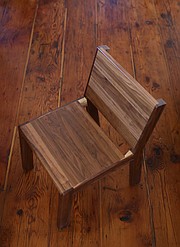 Some of the chairs submitted by local artists and furniture-makers for The Chair Show exhibit at Decade coffee shop that runs through May 28.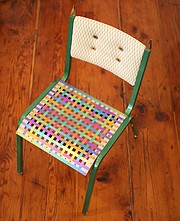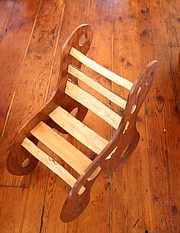 In the Chair Show, it's OK not only to touch the art but to sit on it. Go ahead — take a seat, make yourself comfortable and have some coffee while you're at it.

That's the idea behind Lawrence-based design and build firm Struct/Restruct's exhibit, which opened during April's Final Friday festivities and will remain at Decade — where patrons will use the chairs in a live environment — until May 28.

Matt Jones, co-owner of Struct/Restruct who helped organize the Chair Show, has checked out other furniture exhibitions before, but he's never seen one quite like this.
"The furniture shows I've been to in the past were set up where you could observe [the pieces], and that's about it," Jones says. "Generally, you don't really see this many chairs together, and you often have to go far to even see a furniture show."
While most entries are primarily made with "the traditional choice" of wood, he says, the show also boasts some offbeat designs.
Ash Shadrick, an instrumentation technician in KU's department of mechanical engineering, found his chair — a throwaway from a fraternity house — on campus one day.
He saw potential in the simple metal frame, painting it a cheery, metallic green and replacing its rotted-out seat with woven strips of colorful metal. Using a single block of bronze, Shadrick fashioned a quartet of buttons for the chair's white faux-leather backrest (another new addition) and added a spike to each side.
Does he have a name for his creation?
"No. 'Buy Me,'" Shadrick says with a laugh. "I just figured I'd try to sell it. I don't have an idea."
Jones, whose business supplies most of the furniture already in use at Decade, says the original idea for the show came about when some of his co-workers expressed interest in building chairs.
Wanting to show off the new work at Decade, they decided to host a show and open it to anyone.
The roster includes some veteran woodworkers, though young folks — particularly architecture students from KU — make up the majority.
About two-thirds of the chairs exhibited in the show are for sale. With the pieces being in continual use at Decade for the next month, each artist knows their work might endure some wear and tear — but that's "part of the fun," Jones says.
"I think for a lot of people, it's their first chair," says Jones, whose own chair made from old railroad-crossing signs will also be featured in the show. "The fun thing about chairs is that it's kind of an experimental way of ... building where the consequences of failure aren't huge, but it develops a knowledge of construction methods that I think you can apply to larger projects."
Noah Yoshida is one of those first-timers. He and pal Olivia Shi, both juniors at Bishop Seabury Academy, were among the exhibitors to drop off their chair Wednesday at Decade.
At 17, they're also the youngest. Yoshida and Shi heard about the show through art class at school, and figured a chair might be a cool addition to their portfolios.
"I thought I could do everything by myself, so at first I didn't really want to work with Noah," jokes Shi, who had dabbled a bit in carpentry beforehand. "But it was more complicated than I thought."
The friends enlisted the help of their physics teacher, retired engineer Dave Brunfeldt, for the project, also scoping out Pinterest for inspiration.
Yoshida and Shi harvested some of the wood — Bradford pear planks that, alternating with bare sections, make up the chair's seat and back — from Brundfeldt's backyard. Cedar plywood, purchased at Home Depot and stained, was used to create the sleek, swooping lines of the chair's profile.
Between prom, out-of-town trips and sports schedules, they only had about a week and a half to finish their chair before the show's opening.
Luckily, things worked out just fine. For Yoshida, an aspiring architect, his completed project is "the first of many." Shi says they may try to sell it, though Yoshida says he'd still like to take it home and polish it up a bit before adding it to his portfolio.
"This was a lot of fun, honestly. I think after seeing all these," he says, gesturing toward the other chairs, "If they have another Chair Show, I'd probably do it."

More like this story on Lawrence.com