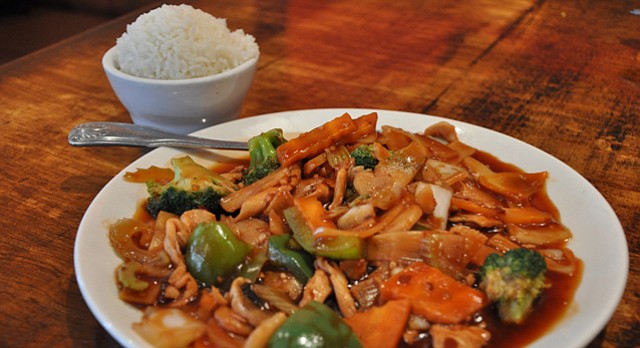 Wednesday, April 29, 2015
At a place where you can dine on such Chinese delicacies as "pork blood with innards" and "spicy intestine with tofu," I have to admit that we were expecting something a little more, well, weird, when I ordered up a plate of Jade Garden's "Strange Chicken" earlier this week.
The chicken itself — boneless, skinless pieces of white meat — is served with vegetables. Once again, nothing too abnormal there: broccoli, carrots, mushrooms, onions, celery, bell peppers, water chestnuts and bamboo shoots.
The "strangeness," apparently, is in the sauce, assistant manager Javier Martinez tells me. It's a little sweet, a little spicy and a little sour, giving the dish an unusual flavor profile, he says.
Where to get it: Jade Garden, 1410 Kasold Drive
What you'll pay: $5.25 for a small, $7.25 for a large
Try it with: An order of Jade Garden's perfectly crunchy-on-the-outside, soft-and-melty-on-the-inside crab Rangoon
Also on the menu: This place has one of the largest and most varied menus in town. There's the aforementioned "authentic Chinese" offerings, which also include spicy dried fish and pigs' feet, and Chinese-American classics like beef with broccoli and Kung Pao Chicken. You'll also find a few dishes from other Asian countries, such as the stir-fried Japanese udon noodles. Served up with vegetables, soy sauce and your choice of protein, the rice noodles are deliciously thick and chewy.
---
http://www.youtube.com/watch?v=xL_UdM7-yjI
— Off The Beaten Plate highlights some of the more exotic, oddly named or inventively concocted dishes from local menus. Know of an offbeat item we should check out? Email reporter Joanna Hlavacek at jhlavacek@ljworld.com. Follow her at Twitter.com/hlavacekjoanna.