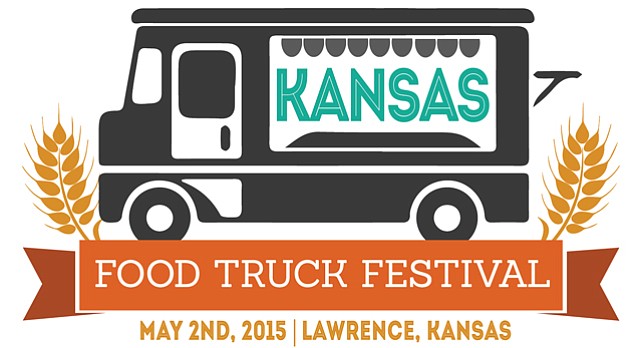 Originally published April 29, 2015 at 5:18 p.m., updated April 29, 2015 at 9:59 p.m.
More than a dozen food-on-wheels vendors will make an appearance at the second annual Kansas Food Truck Festival this weekend in Lawrence's Warehouse Arts District.
The event, which also features live music and performances from Lawrence Busker Festival acts, nearly tripled its roster of trucks from last year, bringing in 14 food vendors (and one fashion truck, Kansas City's The Jeweled Gypsy) from the Lawrence and KC area.
As with last year, ticket sales will benefit Just Food, the Lawrence food bank, says festival committee member Jennifer Letner. Unlike last year, the $10 fee only covers admittance and won't include a food voucher, which Letner says contributed to the shortage of eats at the festival's first go-round.
"Now that we know that people are willing to come out, we know there's a demand," she says.
Tickets can be purchased online at www.ksfoodtruckfest.com, at the event, or at various locations around town including Just Food, Merchants Pub and Plate, Hy-Vee stores and the Granada Theater. Credit cards will be accepted at the festival entrance, but customers must pay with cash once inside. There will be four ATMs on site, Letner says.
If you go
What: Kansas Food Truck Festival
When: 5 to 10 p.m. Saturday, May 2
Where: The festival will take place in the Warehouse Arts District in east Lawrence. You'll find food trucks parked along Pennsylvania Street between Eighth and Ninth streets, with more along Eighth Street between Pennsylvania and Delaware streets. For a festival map, visit www.ksfoodtruckfest.com.
Cost: Tickets cost $10, and can be purchased at the event, online or at various locations around town. Locations are Merchants Pub and Plate, Hy-Vee stores, the Granada Theater, the Cider Gallery, the Phoenix Gallery and Just Food. Children 12 and under get in free.
---
Here's a rundown of all 14 trucks at this year's festival:
---
The Locals
Drasko's Food Truck
Who: Jay Draskovich, a longtime cook at Lawrence's 715, hit the streets earlier this year with his Asian-inspired take on Kansas City-style barbecue.
On the menu: Pulled pork sliders with Coca Cola-Sriracha barbecue sauce and Asian coleslaw; Korean pulled chicken taco with ginger-soy-lime vinaigrette; baby-back ribs; smoked brisket with kimchi. All items come with a side of Draskovich's signature macaroni and cheese.
---
SnoFlower
Who: Kyle and Lori Bartel operate this seasonal truck, which serves 80 popular combinations and single flavors — including 28 organic varieties — of gourmet shaved ice. The husband-and-wife team carve their ice fresh to order, giving each confection a creamy (never crunchy, unlike a pre-shaved snow cone) texture.
On the menu: Aside from shaved ice, SnoFlower also sells bottled water. "Tiger's Blood" (a mixture of strawberry and coconut) and "Jayhawker" (cherry and blue raspberry) have emerged as bestsellers since the truck premiered in summer 2014, Kyle says. It's hard to pick a favorite, he says, though he favors anything "as long as it has Sno Cream on top." The dairy topping elevates the frozen treat to something more resembling ice cream, Kyle says.
---
Torched Goodness
Who: Phoenix transplants Eric and Julia Ireland brought their successful crème brulee truck to Lawrence in 2014. The lime-green truck is brought out mostly for special events these days, though you may have noticed its cart cousin parked outside Liberty Hall on recent afternoons.
On the menu: Crème brulee and cold-brew coffee. Aside from the standard flavors (traditional vanilla, sea salt caramel and chocolate), the Irelands also offer a rotating selection of brulee specialties, including the Coconut Strut, the Crème de la Cookie and the S'mores the Merrier — all of which will make an appearance at the festival, Julia says.
---
The Purple Carrot
Who: Formerly known as the Blissful Bite, this vegetarian-friendly truck rebranded itself as The Purple Carrot co-op, says co-owner Jason Hering.
On the menu: Lots of organic and locally sourced dishes, including the popular avocado smoothie (made with avocado, chocolate chips, agave nectar and vanilla almond milk) and the Blissful Burrito. Hering says they'll make a smaller version of the bestseller (stuffed full of potatoes, black beans, local eggs and greens, truck-made salsa and organic cheddar cheese) for the festival.
---
Biemer's BBQ
Who: You may be familiar with Jim Biemick's namesake restaurant — and the ever-revolving meat-themed puns on its signage — at 2120 W. Ninth St.
On the menu: Tasty meats between buns (pulled pork is a perennial favorite, Biemick says) plus classic 'cue sides such as coleslaw, potato salad and beans.
---
The Out-of-Towners
CoffeeCakeKC
Who: Owned and operated by Michelle Ferguson and Kim Niebaum, this colorful truck serves exactly what its name implies: coffee, baked goods and its popular "coffeecake."
On the menu: The truck specializes in espresso, which is brewed on-board. Signature drinks include The Pablo (Mexican hot cocoa with a double shot of espresso) and The Baron, a frozen version of The Pablo. Ferguson says they'll also have new flavors of cupcakes on hand for the festival, like Kahlua, bananas foster and Irish car bomb.
---
Brock Hops
Who: Retirement-home chef Tirrell Brock runs this sausage-centric truck with his mother, Alice, and grandfather, Charles.
On the menu: Brock's "Loaded Fun Dogs," more than 40 variations on the simple hot dog. Selections include the bestselling chili dog (homemade chili, shredded cheddar cheese, onions and mustard) and more zany creations involving peanut butter and bananas.
---
Deco Street Eats
Who: This crimson-colored truck serves upscale comfort food with an emphasis on local and seasonal produce, says owner Jen Stoppel.
On the menu: The festival menu is still in the works, says Stoppel, adding that a peanut-y noodle with spicy ginger sauce and crunchy veggies will probably make an appearance. Regular bestsellers include macaroni and cheese (it's got a "spicy twist," Stoppel says) and chipotle-spiced pork tacos served with chipotle aioli and slaw.
---
Bochi
Who: When Wisconsin-born Xiong Chang spent a year teaching English in Taiwan, he fell in love with its street food and decided to bring it with him to Kansas City. Along with parents Neng and Wachi, the former insurance professional opened his Asian-influenced truck in summer 2014.
On the menu: Bochi (short for "boneless chicken," Chang says) specializes in stuffed wings, which originate in Vietnamese, Thai and Cambodian cuisine. Customers can choose from Korean, Thai and Mandarin sauces.
---
The Moose Truck
Who: An offshoot of the KC-based chain The Blue Moose, the truck offers "handcrafted American classics with a twist," says catering and events director Bethany Inman.
On the menu: Macaroni and cheese croquettes, mahi-mahi fish tacos and the Moose Truck's barbecue brisket tower. The hearty creation involves brisket layered with mashed potatoes, barbecue jus and fried onions in a parfait glass.
---
Richie Rich's
Who: Barbecue veteran Rich Powers left the competition circuit after 25 years back around 2012 to open up his own food truck, bringing his take on classic Kansas City-style 'cue with him.
On the menu: Pulled pork and brisket sandwiches, "probably" with coleslaw and French fries on the side, Powers says.
---
Street Wings
Who: Michelle and Jeff Franke co-own this truck, which hit Kansas City streets last year. The married couple also own another food-on-wheels operation, Little Italy, which opened in 2011.
On the menu: Wings, and lots of 'em. Customers can choose from up to 14 sauces, though wings with barbecue sauce remains the most popular order. They're also known for their buffalo tots (tater bites tossed in your choice of sauce and topped with crumbled bacon, blue cheese, sour cream and a celery stick) as well as the buffalo chicken sandwich and deep-fried pies.
---
Wilma's Real Good Food
Who: Brett Atkinson runs the show at Wilma's, which specializes in classic comfort dishes with "next-generation flair."
On the menu: No word yet on what's in store for the festival. Past Wilma's creations include "redneck rolls" (a Spam and Velveeta sushi roll with spicy hibachi sauce), a meatloaf slider (served with baby spinach, caramelized onion and feta mayonnaise) and pork belly beignets.
---
Indios Carbonsitos
Who: Owned by Adrian Bermudez, this colorful truck (Aztec-inspired motifs pop against its red paint job) specializes in authentic Mexican street food.
On the menu: South-of-the-border favorites such as chicken tortilla soup, churros and the bestselling torta ahogada. The "drowned sandwich" features braised pork, pintos refritos, avocado and lime-pickled onions, all stuffed inside freshly made torta bread.