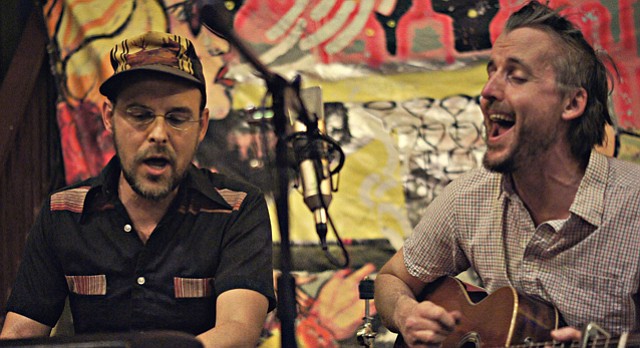 The boisterous wailing, the twirly moustache, the science fiction-themed lyrics: they're all key ingredients that have helped make the duo known as Drakkar Sauna a local music treasure over the last decade.
They are unlike any band in Lawrence, playing almost strictly acoustically and utilizing instruments such as the harmophone. What really draws fans to this band, though, is their unique harmonizing. Wallace Cochran and Jeff Stolz crafted a unique sound by harmonizing at full throttle, loudly singing into each other's ears as they huddled around a small army of stringed instruments and various percussion tools.
"I think we just like to hear loud, loud singing in our ears," Stolz says. "We're the only two people willing to do that in each other's faces."
But the band's run is coming to an end this week at a farewell show at 7:30 p.m. Friday at the Lawrence Arts Center. Two days after the show, Cochran is getting on a plane and heading to his new home in Hawaii. So if you want to bask one final time in the glory of their unforgettable songs, this is it.
If you go
Drakkar Sauna, along with many special guests, will play a farewell show at 7:30 p.m. Friday at the Lawrence Arts Center, 940 Massachusetts St. Tickets cost $10 and are available for purchase at the Arts Center box office or online.
They won't be alone. An all-star lineup of local musicians will be joining them onstage, including Paul Schmidt from Midday Ramblers, Wayne Gottstine of Split Lip Rayfield, Evan Herd and Tanner Spreer of Psychic Heat, and more. A lot more. It looks to be like Lawrence will be sending off Drakkar Sauna in style.
Spreer, a guitarist for Psychic Heat, got to know Cochran when they became co-workers at the Merc. "That was a big surprise, to find out that this person I was working with is a fairly talented person," says Spreer.
Drakkar Sauna quickly became one of his favorite bands. Spreer will be joined by his bandmate Herd as guest musicians for the farewell show.
"I'm honored he would even consider Evan and I, and it feels really great to be playing with people I consider veterans of the Lawrence music scene," he says. "It means a lot to me."
A talent for wailing
Cochran and Stolz's partnership began fondly. Stolz recalls passing through Columbia, Mo., where Cochran lived, in 2000 and meeting up with him for a bite to eat. In the blink of an eye, they hit it off.
"We liked each other," recalls Stolz, who was living in Pittsburgh, Penn., at the time. He then agreed to help Cochran work on a movie he was directing. A year later, Cochran came to Pittsburgh, and over a month they shot the movie that would later debut at Liberty Hall in 2004.
When the two began working on the soundtrack to the film, they were quickly drawn to each other's musical stylings.
"He ended up moving here, so we could work on the soundtrack of the movie together. That's when I discovered his talent for wailing the way that he does," Stolz says.
The band officially formed in 2003, but Drakkar Sauna's folky sound didn't happen at first.
"Our first show, we played with electric instruments and it was horrible. We were absolutely terrible," Stolz says. When they got booked for a second show, it was in a room at the Eldridge with acoustics that didn't necessarily favor electric instruments. "It would have been absolutely ridiculous to use any amps, so we decided to play with acoustic guitars. I had my harmophone, so we decided to do a show like that with no amplification, and we loved that show. So we were like, we need to do this — this is the way that it works. So that's what we did."
From moon man to third man
Over the course of the next 12 years, Drakkar Sauna would produce five full-length albums, play oddball venues (including a bus stop), and tour relentlessly. During that time, Cochran's infatuation with space intensified.
Many of the band's lyrics deal with space exploration; and when they released "20009," the album was accompanied by a book Cochran wrote about rockets called "The Moon for Its Citizens."
"He's got this space obsession," Stolz says. "He actually did a solo tour on his book and his music."
Drakkar Sauna's years together were also marked by some memorable moments, including playing with the legendary Charlie Louvin of the Louvin Brothers at a record store gig in Nashville.
"The record store owner told us that Charlie would like to sing a couple of songs with us," Stolz says. "I was absolutely terrified, and I said no, he can't do that. But I came around to the idea."
That wasn't the only notable Nashville moment the band experienced in the historic music community. They also recorded some music down at Jack White's famed Third Man Records.
"Wallace came home from the grocery store, and there was a message from him on his answering machine," Stolz says. The band ended up spending the day at the studio with Jack White, who took turns with an engineer working on the album.
http://www.youtube.com/watch?v=oBo4KHohWvw
Lawrence love
Despite all the fun the band runs into in Nashville, Lawrence was their home.
"I just live in Lawrence, but I love Lawrence," he says. Stolz works at the Replay and gets to see all the music to his heart's content.
"It's been part of my existence since I've lived here. I'm working the bar here, I like to listen to music all the time. Working at the Replay gives me insight as to what's going on. It's the cultural mecca of Lawrence."
But in just a few days, Cochran will be leaving that cultural mecca behind. So now, for the first time in 12 years, there will not be someone roaring into Stolz's ear. He says he'll miss "wailing at the top of my voice and hearing another note that is in harmony wailing in my left ear."
Stolz will stay active musically, because the driving force behind his work in Drakkar Sauna all those years is still prevalent today.
"I need a creative outlet," he concedes. "I like to sing, it's therapeutic. I just enjoy playing music, really, and hanging out with people. It gives me something to work on. I don't think there's anything larger than that."
— Fally Afani is a freelance writer and editor of I Heart Local Music. For more local music coverage, visit iheartlocalmusic.com.