Wednesday, August 5, 2015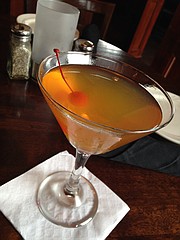 Nothing indicates the arrival of the dog days of summer quite like stepping out of your apartment at 9 a.m. and feeling cool beads of sweat immediately spring forth along your scalp and upper lip. That, and the heightened chances of sunburn, mixed with permanent face redness and general queasiness from the unbearable heat, make this time of year the actual worst.
My fellow vampires, err, redheads know what I'm talking about.
So, when temperatures dipped slightly and the sun gave way to thunderstorms Tuesday afternoon, I found myself venturing to The Eldridge Hotel's Jayhawker bar in search of a drink that I imagined would transport me to happier (i.e., chillier) days: the Snowdrift martini.
Despite fully expecting something white and frothy and well, snow-like, I was pleasantly surprised by the Snowdrift, which bartender Kristy Lopez guesses is meant to evoke the kind of cuddly coziness we associate with wintertime.
Made with vanilla vodka, amaretto and sour mix, the martini has all the warm, nutty flavors of a Christmas cookie, with just a tint of tartness that keeps it stomachable (and refreshing) even in the hottest summer months.
The hard stuff: Svedka vanilla vodka, amaretto
Where it's served: The Jayhawker bar in The Eldridge Hotel, 701 Massachusetts St.
What you'll pay: $8
Other libations at this location: If martinis are your thing, you're in luck. The Jayhawker offers more than 30, ranging from the sweet (Key Lime Pie, Raspberry Kiss and the ever-popular pineapple-infused Jayhawker Juice, to name a few) to classic drinks like the Gimlet and the Gibson.