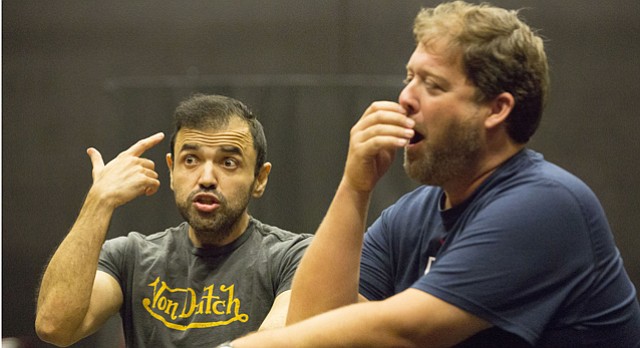 Thursday, August 13, 2015
Even the least opera-savvy among us would probably recognize a few tunes from "Carmen," Georges Bizet's timeless tale of passion-turned-jealousy in a romanticized Seville, Spain.
Since its debut in 1875, "Carmen" has been recorded countless times (some estimates claim upwards of 200) and has been adapted into more than 30 films, among them Charlie Chaplin's 1916 "Burlesque on Carmen" and the 2001 "Carmen: A Hip Hopera," starring Beyoncé.
So, what's a small company like Lawrence Opera Theatre to do when staging arguably the most beloved and well-known opera of all time?
Put its own spin on it, of course.
"We took the Spain out of Carmen. This is, like, Club Seville in, like, Atlantic City," jokes company founder and artistic director Hugo Vera, whose upcoming production moves the action into a modern-day nightclub. "It could be anywhere. Any of these characters could be anyone."
For this year's Summer Festival season, which kicked off July 29 and closes Sunday, Lawrence Opera Theatre organizers chose the theme "LOTs of LOL (Love, Obsession, and Laughter)." The company's production of "La Damnation de Carmen," a modified version of the 1875 work, promises all three when it opens Friday evening at Theatre Lawrence, 4660 Bauer Farm Drive.
If you go
What: Lawrence Opera Theatre's "La Damnation de Carmen"
When: Friday at 7:30 p.m. and Sunday, Aug. 16 at 2:30 p.m.
Where: Theatre Lawrence, 4660 Bauer Farm Drive
Cost: Tickets for "La Damnation de Carmen" range from $15 to $20, and can be purchased online at www.theatrelawrence.com.
For a full schedule of Lawrence Opera Theatre's current season, visit www.lawrenceopera.org.
"La Damnation de Carmen" is a contemporary riff on the Bizet's classic that, while retaining its original music and basic story line, injects something of a "ripped from the headlines" flavor into the 19th century tale.
In it, Don Jose, instead of a naive soldier who falls for the titular heroine, is a veteran struggling to adapt to civilian life following several tours in Afghanistan.
Played by Vera, the re-imagined Don Jose first meets Carmen at a gypsy-owned bar (that happens to act as a front for drug dealing) where she works as a lounge singer.
He's later pushed to his breaking point when Escamillo (a bullfighter in Bizet's opera, now a famous pop star on a publicity tour) rolls into town and woos Carmen away from him.
As in the original work, tragedy ensues. But it all unfolds in a way that today's audiences can easily relate to, Vera says.
"You're dealing with drugs, you're dealing with PTSD, you're dealing with physical abuse — assault, essentially," he says of the reworked play. "All you have to do is open up the newspaper and you see all that transpire in everyday life."
Another major change to Bizet's opera: the running time, which in Lawrence Opera Theatre's production has been cut nearly in half to approximately two hours with an intermission.
From an artistic standpoint, the move is meant to create a more intimate, "fly on the wall experience" for the audience. But it's also a practical decision, says Andrew Stuckey, who plays Escamillo in the production.
"We wanted it to be compact and powerful, but also, Lawrence Opera Theatre is a young company. This saves on resources," says Stuckey, who grew up in Kansas City and attended Kansas University with Vera. "We don't need to have a huge chorus, we don't need five set changes or four costume changes for everybody."
Lawrence Opera Theatre — or "the little company that could," as cast member Stacey Stofferahn calls it — may be small now, but it's growing. Recently, LOT reached 501c status, which effectively makes it a nonprofit and opens possibilities for more funding.
As the only professional opera company in Kansas aside from Wichita Grand Opera, the Lawrence group has its fair share of local talents, many of whom are young and just starting out in opera.
But it's also starting to bring in more and more professionals working on a national level, such as Stuckey, Vera (who sings tenor in the New York Metropolitan Opera when he's not visiting his old stomping grounds) and Liz Cass, the production's Carmen (who regularly performs with the Austin Opera and Austin Symphony).
That mix of up-and-coming singers and industry veterans is what fuels Vera, who founded Lawrence Opera Theatre as a way to provide opportunities for a younger generation of artists.
Stuckey, who serves as an assistant professor of music at the University of Arizona, says he was happy to help out his friend and spend some time in Lawrence, if only for a few weeks. He's also giving back while in town, working privately with some of the company's younger cast members.
"It touches my heart, because these people could be doing things that pay more, but they've decided to come here to Lawrence," Vera says. "And there's a lot of good stuff in Lawrence."