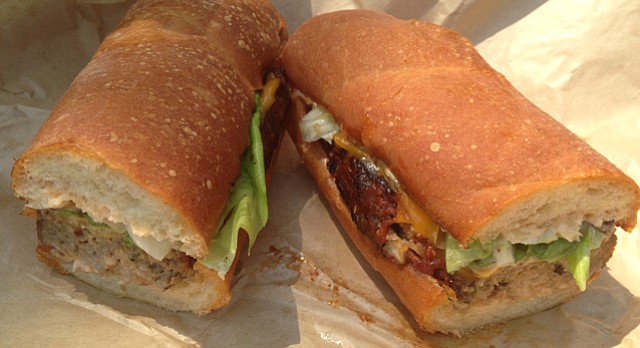 Wednesday, August 26, 2015
If you're a true-blue, red-blooded American, you've probably sampled a meatloaf sandwich in your lifetime, whether lovingly pieced together by Mom the day after Meatloaf Night or served up at a greasy-spoon diner.
That's quite an assumption, to be fair — I promise I'm not really questioning anyone's patriotism here, readers — but while we're at it, here's another one.
I'm guessing you've probably never had a meatloaf po' boy before. I certainly hadn't until I visited Terrebonne Cafe, where they're serving up the Cajun-y sandwich as a special every Wednesday.
At Terrebonne, homemade slices of (very hefty) meatloaf are piled onto a toasted French roll with cheddar cheese, lettuce, tomato, onions and the cafe's special po' boy sauce.
This sandwich should make a meatloaf fan out of those who claim not to enjoy the comfort-food classic, which has a reputation in some circles as being dry and flavorless. (Clearly those folks haven't had a good meatloaf, am I right?)
Fortunately for us, Terrebonne's remains nice and juicy, with slightly crisped edges. The po' boy sauce, which drips off the sandwich and onto your hands in the most appetizing way, probably helps, too.
Where to get it: Terrebonne Cafe, 805 Vermont St.
What you'll pay: $6.50
Try it with: Terrebonne's poutine fries, which take Cajun fries and smother them with beef gravy and cheese, if you're really hungry. They're also available as a Wednesday special. Or go the safe route with Terrebonne's vinegar-y slaw.

Also on the menu: Plenty more po' boys, including shrimp, gator, crayfish and andouille sausage varieties, plus other Louisiana favorites like the Muffaletta, gumbo, fried okra and hush puppies.
— Off The Beaten Plate highlights some of the more exotic, oddly named or inventively concocted dishes from local menus. Know of an offbeat item we should check out? Email reporter Joanna Hlavacek at jhlavacek@ljworld.com. Follow her at Twitter.com/hlavacekjoanna.