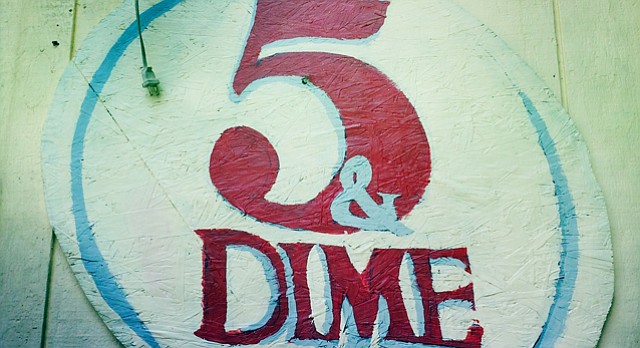 Thursday, August 27, 2015
Vintage crafting magazines, packages of pantyhose, board games, comic books, hair rollers and dozens — if not hundreds — of other old-timey items line the shelves behind a makeshift soda-fountain counter at the Lawrence Percolator.
Tucked away in the alley behind the Lawrence Arts Center and identified from the outside by its green awnings, the short, squat little building at 913 Rhode Island St. is, on most days, an art gallery.
But in recent weeks, the Percolator's already-compact 600-square-foot interior has been transformed into a small-town, 1970s-era five-and-dime store complete with an antique cash register and diner-esque chrome tables and chairs.
The effect is cluttered, chaotic and perhaps most notably, a tad uncomfortable. That's kind of the point, says Andy Brown, the co-producer of Orange Mouse Theatricals' upcoming production of "Come Back to the Five and Dime, Jimmy Dean, Jimmy Dean," which opens Friday.
"The idea is to do small, immersive theater," says Brown, whose production invites guests to pull up a chair and sip on fountain drinks before the show. "We're trying to create space where people can really encounter theater, as opposed to, 'I'm going to sit here in my auditorium seat and watch the show and applaud politely and leave.'"
It's also a guiding principle behind Orange Mouse Theatricals, which Brown co-founded with longtime friend and partner Cynthia Evans. The company, which staged its first production — "Black Friday," a treatise on the dehumanizing effects of consumerism — in November, is interested in the kind of "lesser known" plays that engage with timely, relevant topics.
"Five and Dime" is one such example. The play's handling of sexuality and gender — as well as other timeless issues such as cancer, domestic violence and mental illness — are even more pertinent now than they were at the time of its debut nearly 40 years ago, says director and co-producer Cynthia Evans.
Penned by Ed Graczyk in 1976 and later adapted into a 1982 film starring Cher and Kathy Bates, the story revolves around an all-female James Dean fan club that reunites 20 years after the actor's death.
The action, which alternatives between 1955 and 1975, takes place at a Woolworth's five-and-dime store in the women's hometown of McCarthy, Texas, not far from where Dean filmed "Giant" shortly before the car crash that took his life at age 24.
Over a series of flashbacks, the friends swap secrets, some of which date back to their seemingly carefree teenage years. Now pushing 40 and still stuck in the crumbling southwestern Texas town of their youth, the Disciples of James Dean ultimately realize that many of the hopes and dreams they envisioned for themselves in 1955 didn't come to fruition and probably never will.
If you go
What: Orange Mouse Theatricals' "Come Back to the Five and Dime, Jimmy Dean, Jimmy Dean"
When: 8:30 p.m. Aug. 28-29 and Sept. 4-5
Where: Lawrence Percolator, 913 Rhode Island St. (look for the green awnings in the alley behind the Lawrence Arts Center)
Cost: Tickets range from $15 to $25, depending on the package, and can be purchased online or at the door. For more information, visit orangemouse.wix.com.
One character, Joanne, proves the exception. Back in 1955, she was known as Joe, the club's sole male member. But in 1975, more than a decade after her sex reassignment surgery, she returns to her hometown as Joanne — who, unlike her old friends, left McCarthy and grew into a successful, confident woman.
"Joanne is the one who follows her dreams and comes back changed," Evans says. "The rest of the cast has shied away from change, has given up on dreams. She's willing to reach back and take a risk, even if just walking away might be easier."
Evans, who first fell in love with "Five and Dime" while starring in a production at Kansas University in 1988, wanted to do something unprecedented with her staging. For the first time in the play's history, according to Evans' research, a transgender actress has been cast in the role of Joanne.
Evans is confident in musician and Lawrence theater newcomer Christi Cranberry's portrayal, which she hopes will lend a greater personal understanding of Joanne's experience.
"When I did the show back in 1988, and in the movie and every performance, it's always been a (cisgender) woman playing the part. It made me think of Shakespeare's time, when all the roles were played by men," Evans says. "I thought, 'Wow, that's sort of archaic.' I'm very excited to be breaking the eggshell."
Brown agrees. As executive director of Headquarters Counseling Center, his work focuses on suicide prevention, and transgender issues often play a role.
As with previous Orange Mouse productions, his goal with "Five and Dime" is to shine some light on the subject and ideally, start a conversation with the audience.
"Even though it's about James Dean and set in the '50s and '70s, I think we still have a huge issue with acceptance and inclusion of transgender folks," Brown says. "We're hopeful that this will help raise some attention and get people thinking about it a little more."