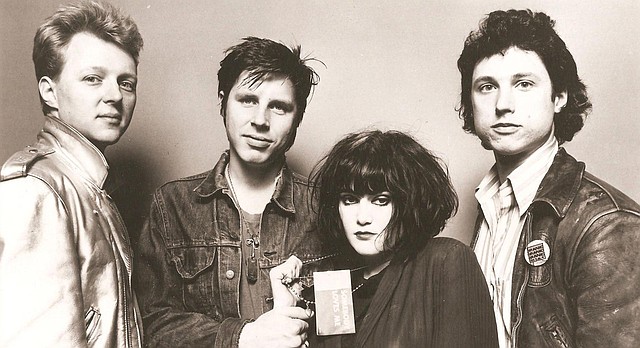 Any crash course in the history of punk rock will land you right in the middle of an X album, two of which were ranked by Rolling Stone among the top 500 albums of all time.
The legendary band helped define the punk rock sound in the '70s and '80s, and left a profound impact on generations of punk rockers. Now, some of those punk rockers across Lawrence and Kansas City are jittering with excitement over the band's upcoming Bottleneck show on Sept. 1, an event that's sure to conjure up memories of the band's infamous appearance in "The Decline of Western Civilization" as fans eagerly thrash along.
It's impressive that after nearly 40 years, seven studio albums and two reunions, the band still tours relentlessly — but this tour isn't happening without its trials. Fans at the Lawrence show will still bask in John Doe's impressive guitar skills and sing along with Exene Cervenka, the dark-haired vocalist and one of punk's leading ladies. But missing from the Bottleneck stage will be Billy Zoom, who revealed his battle with cancer just before the band's latest tour.
Cervenka says canceling was not an option.
"You don't just cancel $5,000 worth of flights, $10,000 worth of hotels, leave clubs hanging at the last second. You have to go," says Cervenka, who noted that fans have welcomed the band with open arms even when they're down one famous member. "We've maintained our end of the deal, and they've maintained their end of the deal. Our fans aren't going anywhere, and that's really reassuring now more than ever.
"You get older, and you really value things you never could when you were in your 20s."
Created in a vacuum
A lot of X's fans are also musicians, but Cervenka says there's no comparison between today's DIY punk scene and the one her band helped launch.
"It's a completely different thing, and they should be proud of that," she says. "It's nothing like what we did — it's completely different times, different goals, economic situation.
"You can't have what we had because there were no cameras except for professional cameras. There was no television, there were no cellphones, there was no cable TV, it was just starting. So we were created in a vacuum, so our scene grew because of that. We were all connected together in a way that was word of mouth, everybody sticking together to keep it going."
Cervenka is quick to point out that although the punk scene has changed, the industry has not, and artists, she believes, are jilted more than ever.
"You have a bunch of business people who rip off young people, get them to sign things they shouldn't sign, make way more than the artists will ever make," she says. "They don't care about them at all — all they care about really is making tons of money. You have six corporations controlling all the media in America ... and it's a super corrupt system. The entertainment system is more corrupt than it's ever been."

The future of music
This is what makes it hard to see "the good stuff," according to Cervenka. One of the bands she considers worthy of the spotlight is Skating Polly, a pair of teenage stepsisters from Oklahoma with strong Lawrence ties (they've been recording their upcoming album here with local musicians Kliph Scurlock and Steve Squire) who make regular appearances at the Replay.
"They're great, and that's the future of music," says Cervenka, whose son Henry Mortensen is currently making a documentary about the band. "We just love those girls to pieces. There's a lot of great bands doing original things, and they don't care to make a million dollars. They just want to play because they're actual musicians."
That sort of mission statement is what's been driving Cervenka's band as well. They've released compilations and live albums, but the last studio album they released was in 1993. Since then, touring has been the force that keeps the members together.
"At a certain point you look around and say, 'Wait a second, where is everybody?'" she says. "People are gone and you're still here, and then you realize, 'You know what? I'm going to keep going until the end.'
"You really get something out of it that's worthwhile. For me, it's gotta be on a much deeper level than making a living ... but because we have a sense of humor, we like doing it."
You can see what they get out of it when X takes the Bottleneck stage on Tuesday
If you go
What: X in concert; all ages show
When: 9 p.m. Tuesday (doors at 8)
Where: The Bottleneck, 737 New Hampshire St
Tickets: $31
Info: thebottlenecklive.com
More like this story on Lawrence.com