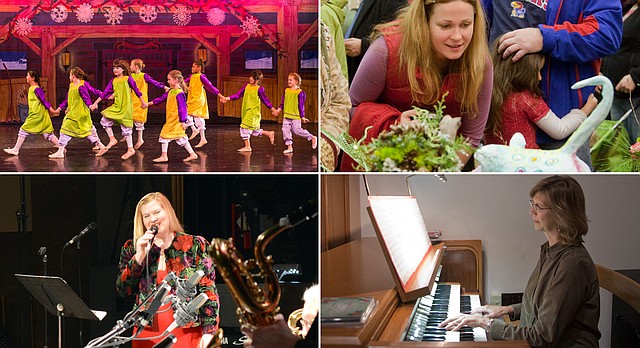 Friday, December 11, 2015
Another holidaze of a weekend in Lawrence, with everything from seasonal shopping, big band and vespers concerts, and an annual local twist on "The Nutcracker."
'A Kansas Nutcracker: 1856 Herald of Freedom Edition'
7 p.m. Friday and Saturday, 2 p.m. Sunday, Lawrence Arts Center, 940 New Hampshire St.
This iteration of the Lawrence-centric favorite reimagines Bleeding Kansas-era events and figures such as the Sacking of Lawrence and John Brown set to the tune of Tchaikovsky's classic score.
Tickets range from $15 to $21, and can be purchased at lawrenceartscenter.org, 843-2787 or in person at the Lawrence Arts Center.
---
Holiday Farmers Market
9 a.m. to 5 p.m. Saturday, Holiday Inn, 200 McDonald Drive
Stock up on fresh produce, seasonal foods, local crafts and more at the Lawrence Farmers Market's annual indoor sale expected to feature more than 60 vendors.
Previous Holiday Farmers Markets have included everything from homemade bread, knitwear and gourmet dog biscuits to custom-whittled walking sticks, skincare products and elk jerky — no shortage of stocking stuffers here.

---
Kansas Public Radio Presents: Big Band Christmas
8 p.m. Saturday, Liberty Hall, 644 Massachusetts St.
"Get ready for a cool Yule" when the Lawrence-based radio station presents its seventh annual Big Band Christmas concert Saturday.
Featuring the musical talents of the Kansas City Jazz Orchestra and guest vocalists Ron Gutierrez and Kathleen Holeman, the festive production is also asking guests to get in on the holiday spirit by bringing nonperishable food items to be donated to Just Food.
Tickets run from $20 to $300 for a table of 10. They can be purchased at the Liberty Hall box office or online at ticketmaster.com. For more information, call 864-4530.
---
Annual Organ Vespers Benefit Concert
5 p.m. Sunday, First United Methodist Church, 946 Vermont St.
Popular holiday tunes, perennial favorites and Christmas carols are all on the setlist for the 19th annual concert, this year billed as "Simple Gifts," from organist Dr. Tandy Reussner and Friends. (The Friends in this case include trumpeter Erik Mahon, double bass player Adam Galigher, Dr. Rich Galbraith on percussion, and a choir comprising Lawrence-area doctors and nurses.)
Though entry is free, donations to Family Promise of Lawrence and Lawrence Memorial Hospital's Catch a Break program (which offers financial assistance to cancer survivors and their families) will be encouraged and collected.
Doors open at 4 p.m. There's usually quite an overflow with this one, so you might plan on arriving early to secure seats.
More like this story on Lawrence.com