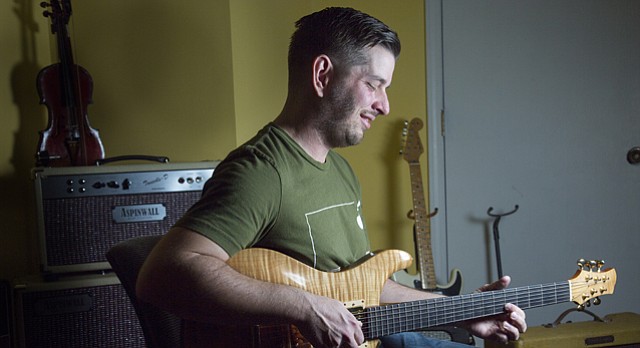 Saturday, December 12, 2015
If you give Danny Corwin anything made from wood, chances are he can sculpt it into a guitar.
He's so skilled that once, he took a family heirloom — his great grandfather's dining room table — and was able to turn it into a guitar.
"My brother and I are in our mid-30s; we've got homes full of furniture. Neither of us needed this thing that was basically falling apart, but the tabletop was so pretty that we just had to do something with it," he says, recalling the unique project. "The guitar's body was two pieces of the tabletop. It was so good to get to do this for my brother. We took this family heirloom and turned it into a new heirloom that he's sure to pass onto his daughter or his son."
For Corwin, owner of Corwin Guitar Co. and a Topeka native who moved to Lawrence in 2007, instruments have always been a deep fascination.
"I've always played. I was a violinist when I was kid, and picked up guitar shortly thereafter," he says. "I wanted to take them apart and put them back together, and started building from there."
It's his knack for dissecting instruments that have had local musicians approaching Corwin with dreams of bringing their musical ideas to life.
"It's really fulfilling to take somebody's vision of a guitar, either the way it looks or a certain sound that they want, and help them see that through, help that come to fruition," Corwin says. "You get something in somebody's hands that they can be inspired by and be creative with, have something unique and different that's all their own."
Corwin has always been enamored with electric guitars. The father of two has been building guitars in his garage, taking them apart and putting them back together since 2002.
"I was just fascinated with instruments," he says. "I thought they were really remarkable in their construction and the details were just so beautiful for me."
CJ Calhoun, of Bonzo Madrid and formerly Cowboy Indian Bear, is one of many local musicians who've sought out Corwin and his business to make an instrument.
"I think CJ's guitar was my favorite guitar to do; it was especially nice. It started with a piece of wood that I've had in my workshop for several years that's a piece of Indian rosewood. I glued it to the top of the mahogany guitar body. It was a joy to work with, and it smelled so good. I'd sand it and it smelled like roses and cinnamon together; it was really an excellent smell," Corwin says. "We used to play in a band together way back. We're really like-minded in what we look for in a guitar as far as aesthetics and tone and playability."
It was Calhoun's guitar that piqued the interest of another local musician, Taryn Miller of Your Friend. Her journey to craft a specialized guitar with Corwin ended up being a special one. Miller actually took part in the guitar-crafting process. Part of the reason was so that she could take it to Paris with her for an overseas event in November.
"A month and a half is an extraordinarily short time to make an instrument, and to knock it out as fast as we're doing it is pretty exceptional," Corwin says. "But Taryn has experience with instruments in the past. She's familiar with setups and things. I trust her hand on the instrument. She offered to help out around the shop to speed up the process, so it's really helpful having her work on tasks."
Working on her own guitar is a dream come true for a musician like Miller.
"It's special; you become attached to it. It's like watching something grow up," Miller says. "It's really amazing to see how he does everything and how he can make things happen. One day, it was a block of wood. Two days later, it was like, here's the body. Getting to be around that and getting to use some of the tools and see it take form, talking about the design together, even the first meeting sitting down and having coffee, drawing it out… there's so many things I hadn't thought about in getting to choose."
Having options is what seals the deal for a lot of musicians who work with Corwin. Nothing on his guitars is pre-fabricated. Every piece is crafted in his shop.
"So many players across the world rely on instruments that were cranked out by machines, factory-made things," Corwin says. "They're fine instruments, but I feel like so many of the guitars in people's hands don't have the soul or the heart that came along with the blood and sweat of a craftsman in a workshop, carving wood and putting his heart in it."
You could say Corwin feels a bit of a patriotic duty in what he does.
"I think that the electric guitar is such a piece of American culture. It's as American as baseball or apple pie, right? I mean, it was made here, it was invented here. It's something that continues to be a huge part of our identity musically as a nation," he says. "All of the blues greats, we hear them pouring their hearts out through these things. I think it's so important to keep the craftsman involved in that craft."
— Fally Afani is a freelance writer and editor of iheartlocalmusic.com.