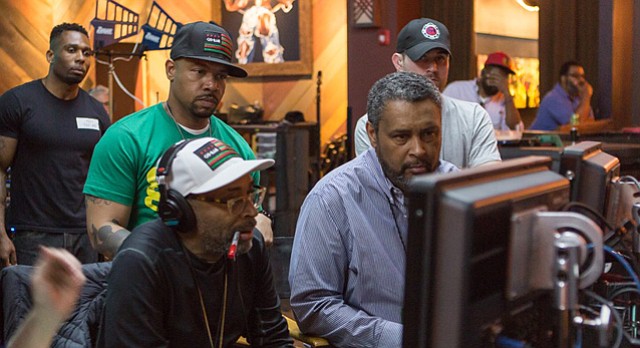 Sunday, December 13, 2015
As gun violence continues to rage in America and debate over how to deal with it gets more heated, Amazon Studios' first theatrical release "Chi-Raq" opened across 300 movie theaters last weekend, offering a satirical own take on the problem, and making a $1.2 million dent in the box office.
"Chi-Raq" is a bold, messy, urgent film, full of lively music and wicked style. Filmed partially in the bullet-riddled Chicago-area neighborhood of Englewood, it adapts Aristophanes' 5th-century B.C. Greek comedy "Lysistrata" into a modern-day satire that dresses down the macho-male myth and calls out those who perpetuate it.
"Chi-Raq" was co-written by Kansas University associate professor Kevin Willmott, and since the announcement of the movie's title (a common reference to Chicago's murder rate) earlier this year, he and co-writer/director Spike Lee have been taking a lot of heat.
"I think the mayor and a bunch of people thought that it was going to be like an '80s gang movie where you're talking about the life of these guys and all the struggles they go through and all that kind of stuff, and the movie is not that at all," Willmott says. "The movie is not an exploration of gang problems. And that's what the gang guys in Chicago wanted, and that's what people thought it would be, but the movie is the opposite of that."
Although it focuses on the violence wrought by two fictional rival Chicago gangs — the Spartans and the Trojans, of course — the movie is filled with real-life parallels (rendered in broad comedic and dramatic form) and call-outs to recent race-related controversies involving Eric Garner, Sandra Bland, and Ferguson, Mo.
Real life caught up with the movie in the form of dashboard footage that Chicago police had knowingly withheld showing the violent death of Laquan McDonald, a black 17-year-old. The footage was finally released two days after the film's premiere.
"There was this energy that everything we'd gone through in the summer with [Mayor] Rahm [Emanuel] coming out and attacking the film over the name and Chicagoans being upset about it," he says.
"There was a real kind of vindication last week and a kind of prophetic witness thing that was connected to the film. Here these guys had given Spike such a hard time with the title of the film, but they'd been holding on to this videotape, shooting this boy 16 times. It's almost like that's why they don't want the film to be called 'Chi-Raq,' because they knew that there's a real problem brewing and they didn't want anything to make the problem worse."
Following well-received premieres in New York last week and Chicago the week before, Willmott could feel the tide turning. "Chi-Raq" was designed to push buttons, and it was playing. Boy, was it playing. Audiences were howling with laughter, and when it was over, people wanted to talk about real problems.
In addition, the notices from critics started coming in, and the verdict was clear: It's Lee's best movie in years. ("Chi-Raq" currently holds an 80 percent rating on critic aggregator website RottenTomatoes.)
The red carpet affairs were exciting, and it was surreal to finally have a movie that opened in theaters across the country on the same day, but Willmott is truly happy that people are finally starting to talk about the real challenge of the film: finding a way to stop the violence.
"Can we make a film that challenges young people that may be involved in The Life in one way or another? Are we making a film that challenges them to make a change; to do something different; to see what they're doing is wrong?" Willmott asks. "Are we making a film that — the way I always like to term it — to [inspire them to] take ownership of the problem?"
For Willmott, this meant deconstructing the romanticized image of thug life, which "Chi-Raq" does repeatedly. Nick Cannon plays a gang-banging rapper so associated with violence that he's known as Chi-Raq.
Rather than glorifying him, he's presented as a guy with serious hang-ups who can't see the damage being done right in front of him. Wesley Snipes takes the opposite approach, sending up his own macho image with hilarious results.
It's bizarre to think that a movie that features a white U.S. general wearing confederate flag underwear and riding the gun of a tank to impress a beautiful black woman has a very serious side, but "Chi-Raq" does. Its targets are far and wide, but Willmott sees a connection where many might not.
"The thing that was fun about the scene with General King Kong is that we got to make fun of that Civil War romanticism and we got to make fun of guys with the confederate flag; all the reenactors and all the people that still send me hate mail about [Willmott's first movie] 'C.S.A.' It's all connected together," Willmott says. "It's the same source that makes young black guys in Englewood, Kansas City, New York, Cleveland and every major city think guns are romantic and are cool, and, 'When I shoot people, it's not about hurting somebody.' In their mind, it turns it into all these other things that are actually not there."
Bob Berney, the head of marketing and distribution for Amazon Studios, issued a statement after opening weekend saying the company couldn't be "more pleased." Amazon has always had their eye on the bigger picture, though, knowing that controversy will translate to lots of curiosity and hopefully big numbers via their streaming platform early next year. For Willmott's part, he hopes audiences see "Chi-Raq" in the theater with a crowd.
"In New York especially it was like, off-the-chain, crazy good in terms of that communal experience, and that's how the movie should be seen," Willmott says. "It's great to see the film with others because that's how it's designed."
"Chi-Raq" is playing now at AMC Studio 30 in Olathe, AMC Town Center 20 in Leawood, and AMC Barrywoods 24 in North Kansas City.
— Eric Melin is the editor-in-chief of Scene-Stealers. He's a member of the Broadcast Film Critics Association and president of the Kansas City Film Critics Circle.