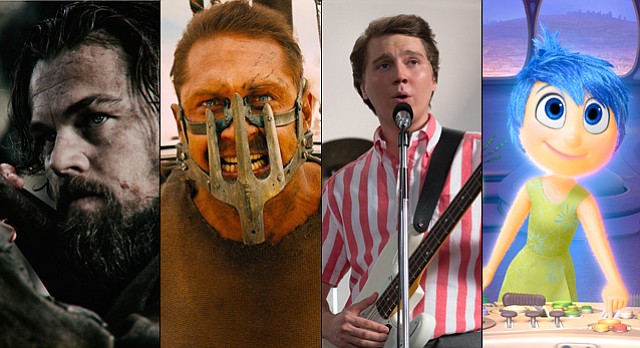 Sunday, December 27, 2015
2015 was an unpredictable year for movies.
Prognosticators predicted that "Star Wars: The Force Awakens" and "Avengers: Age of Ultron" would both become top-three all-time box office champs, but the heady "Avengers" sequel underperformed. Instead, nostalgia shot to the top, as bland reboot "Jurassic World" encouraged parents to take their kids to experience the ever-diminishing returns of CGI dinosaurs.
Meanwhile, 70-year-old George Miller showed them all up by rebooting a franchise last seen 30 years ago with Tina Turner and Mel Gibson in the lead roles. If you don't already know what I'm talking about, just scroll down to the last film on this list — of the best movies of 2015.
10) 'Experimenter'
The first of two movies on this list to break the fourth wall and radically redefine the idea of being based on a true story, "Experimenter" slowly begins to resemble its subject in form. It tugs at the viewer, reminding us that we're watching an artificial construction in the same way that Stanley Milgram's controversial psychological experiments on obedience revealed deeper truths about its subjects. Peter Sarsgaard plays Milgram in this little-seen, button-pushing gem.
9) 'The Look of Silence' and 'Cartel Land'
With these groundbreaking documentaries (and runner-up "Cobain: Montage of Heck," podcast "Serial," HBO miniseries "The Jinx" and Netflix's "Making of a Murderer"), it was a banner year for exciting nonfiction. "The Look of Silence" is the first documentary in history where a victim of genocide has confronted perpetrators who are still in power. It's a quiet, devastating movie, while "Cartel Land" is so thrilling as it exposes hubris on both sides of the U.S./Mexico drug war, that you may forget you are watching a documentary.
8) 'The Revenant'
The most arresting cinematography this year is in this visceral wilderness survival story from director Alejandro González Iñárritu. Shooting long takes in mostly natural light with a fluid, roving camera embeds the viewer in Leonardo DiCaprio's terrifying experience. Sure, at 156 minutes, it's too long, but it's an immersive experience like no other this side of virtual reality.
7) 'Mistress America'
An efficient 84 minutes of contradictory comedy from Noah Baumbach, the New York-set "Mistress America" is at once low-key and energetic. On one hand, it's a '70s Woody Allen throwback, with Lola Kirke and Greta Gerwig as two mismatched young women trying to find themselves in the big city. But the ups and downs of the plot are all a set-up for a screwball finale that calls back the best of the 1930s and '40s. Miraculously, it all feels relatable in the 2010s!
6) 'Inside Out'
Nobody tackles high-concept fantasy with real-world poignancy like Pixar, and Pete Docter's "Inside Out" achieves an extraordinary balance of both. By re-imagining the inner-workings of our brains as the workplace of pixies with very distinctive emotions, this animated tale has a powerful message for kids and adults: Life ain't always easy, and the moments of sadness make the happiness all the more meaningful.
5) 'Ex Machina'
Artificial intelligence used to be the stuff of speculative science-fiction, but guess what? It's already here. Thankfully, it isn't yet as advanced as the super-sexy cyborg Ava (Alicia Vikander), created by creepy genius Oscar Isaac to toy with the emotions of his employee Caleb (Domhnall Gleeson). Why does Ava seem to be modeled after the modern ideal of the perfect female form? Writer/director Alex Garland's answer is to turn that question right back at us in the mirror — for some difficult self-examination.
4) '99 Homes'
Michael Shannon is mesmerizing as a Florida real-estate broker who profits from massive foreclosures in this thriller from co-writer/director Ramin Bahrani. "99 Homes" is a brutal morality tale that turns father Andrew Garfield — a construction worker — into a destroyer of homes. Extreme close-ups and handheld camerawork make the tension all too real, giving it a "what would you do?" quality, while the story revolves around a crisis so sickening, it will make you angry.
3) 'The Big Short'
More anger. Co-writer/director Adam McKay's "The Big Short," set during the lead-up to the 2008 financial collapse, is the perfect companion piece to "99 Homes." Ryan Gosling narrates the film, freeze-frames it to offer commentary, and introduces tongue-in-cheek celebrity educational films to tell the story of the Wall Street outsiders who predicted the bottom falling out. Steve Carell and Christian Bale are standouts in a film that breaks every narrative rule in the book to tell its true story.
2) 'Love and Mercy'
Finally, a music biopic where the creation of the music is actually baked right into the themes of the story! "Love & Mercy" is an impressionistic look inside the mind of The Beach Boys' Brian Wilson (played by Paul Dano and John Cusack) at two key moments in his life. It may be the first biopic to convincingly portray musical genius, in a film that gets richer with every viewing.
1) 'Mad Max: Fury Road'
An action-movie triumph that honors a long-dormant franchise's history while zooming head-on into the future, "Mad Max: Fury Road" is pure cinema. Leave the CGI car crashes to the young generation: George Miller used old-school technique to update his thrilling post-apocalyptic desert nightmare, infusing it with a diesel dose of female power and underlying themes worth serious discussion. "Mad Max: Fury Road" is the complete package. Let's it hope paves the way for future blockbusters to actually be about something!
Runners-up
• "Diary of a Teenage Girl"
• "Tangerine"
• "Chi-Raq"
• "The Hateful Eight"
• "Cobain: Montage of Heck"
• "Beasts of No Nation"
• "Steve Jobs"
• "Sleeping With Other People"
• "Son of Saul"
• "What We Do in the Shadows"
— Eric Melin is the editor-in-chief of Scene-Stealers. He's a member of the Broadcast Film Critics Association and president of the Kansas City Film Critics Circle.