As many guest speakers in Kansas do, Margaret Atwood began her much-anticipated speech with an allusion to "The Wizard of Oz."
Only this time it wasn't something the 1,100 attendees in the room had heard a million times before. This time it was a query, not a cliché. And it elicited genuine — not merely polite — laughter.
"You're not in Kansas anymore? What does that mean? What is 'Not Kansas'?" asked the renowned Canadian author, who, after a dramatic pause, proceeded to riff on the constructs of "Kansas" (staid, familiar, safe) and "Not Kansas" (exciting, exotic, dangerous) and ended by exhorting: "Kansas, go up against Not Kansas! Create an embarrassing pop star of your own."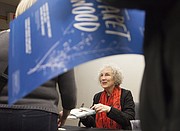 Upcoming events
Events associated with Read Across Lawrence 2015 continue all month, including several art and literary discussions of "The Handmaid's Tale," a screening of the film based on the book, a Scrabble tournament and more. For a complete listing of events, go online to lawrence.lib.ks.us.
The unexpected reference to fellow famous Canadian Justin Bieber was the first of many observations combining pop culture, intellectual reflection and a biting, sometimes ribald sense of humor, as Atwood, 75, delivered the Kenneth A. Spencer Memorial Lecture in the Kansas Union Ballroom on Monday night.
For many in attendance, Atwood's lecture was the highlight in a series of events celebrating her famed 1985 novel "The Handmaid's Tale," which is also the Lawrence Public Library's 2015 adult selection for Read Across Lawrence.
Although Atwood mentioned the novel only briefly, in answering audience questions, her lecture — ambitiously titled "Where Do We Come From? What Are We? Where Are We Going?: The Arts, The Sciences, The Humanities, The Inhumanities, and The Non-Humanities. Zombies Thrown In Extra" — touched on many of its themes: the primal nature of storytelling, the power of language, the danger of silence in the face of mounting oppression, the necessity of seeing connections where none were previously imagined.
The answer Atwood provided to her lecture's first question — "Where Do We Come From?" — is one that resonated deeply with audience member Elizabeth Schultz, a professor emeritus of English at KU.
Atwood said: "We came long ago and we came equipped with the arts. Inside every one of us is an artist of some sort — maybe not a very good artist, but an artist nonetheless."
For Schultz, this emphasis throughout the speech on the essential nature of the humanities "in everyday life, in economics, in science, in everything, in all of us" was a crucially important reminder that subjects like art and literature and music are not discrete realms that we can dismiss as "not financially profitable."
"It is the humanities that make us quintessentially human," she said. "We are not zombies."