Thursday, February 5, 2015
Name: Felix Rodriguez
Age: 27
Hometown: Portsmouth, Va.
Time in Lawrence: I'm visiting my girlfriend here in Lawrence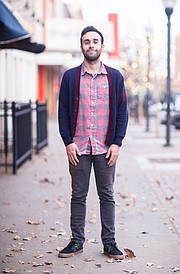 Relationship status: Taken
Occupation: Social work with a focus on domestic and sexual violence.
Dream job: A touring musician
What were you doing when scouted? Shopping for an engagement ring.
Describe your style: I'm pretty casual. I'm almost always wearing a button-down shirt. It's a very minimalist style with basic items like Vans [sneakers]. I do a lot of blacks, grays and darker colors, mostly. It's a balance between a classic and skater look.
Fashion trends you love: I like a more simple, cleaner and gentlemanly look. Nothing super dressy but a lot of basic button-ups, slim-fitting clothes, cardigans, boots and plain, generic, nonbasketball-type sneakers.
Fashion trends you hate: Flashy men's clothing with lots of embellishments and "bedazzled" details.
Fashion influences: Besides working retail in the past, it's from being in the music scene most of my life; that's where I get a lot of my ideas.
What would you like to see more or less of in Lawrence? More affordable versions of high-end fashion brands and stores like H&M.; Less of? Nothing really! Everyone I have been in contact with has been cool.
Tattoos or piercings: Nose ring and several tattoos. My favorite one says "It aint eazy being weezy" [with a picture of an inhaler]. My brothers and I all have asthma, and now we all have the same tattoo. It's something I've been dealing with my entire life, and the fact that I share it with my brothers is important to me. And it caters to my sense of humor.
Whom do people say you look like? Nev from "Catfish," Aziz Ansari, and sometimes Adam Levine.
What type of music do you like? I like post hardcore and post rock. A little bit more aggressive stuff that has ambience and melody — anything from indie/folky to pretty aggressive stuff.
Tell us a secret: I have a bit of hoarders anxiety. Clutter makes me panic!
More like this story on Lawrence.com