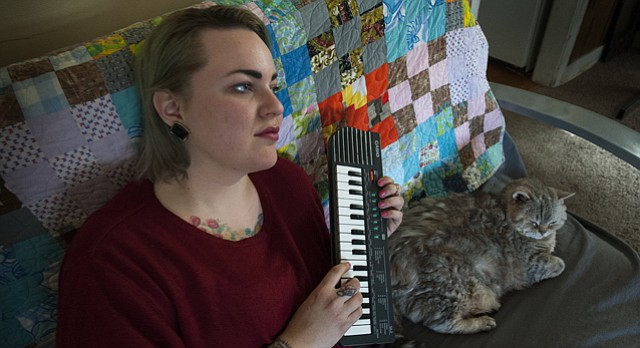 Saturday, February 7, 2015
You'd think that people would have had enough of silly love songs, or so sings Paul McCartney on the 1976 Wings track.
But Katlyn Conroy, a local musician who is writing and performing personalized tunes for customers for Valentine's Day, looks around Lawrence and notices it isn't so.
"I had no idea if many people would actually jump on board, but it's been really good," Conroy, 26, says of her business venture. "I've had over 20 orders so far."
For $20, anyone can hire Conroy — a longtime staple of the Lawrence music scene, currently of La Guerre and previously with the popular band Cowboy Indian Bear — to write a song for a friend or loved one and then record it. Throw down another $10 and receive her newest La Guerre album, "Sapphires," along with a hand drawing (also by Conroy) of you and that special someone.
Originally, the deadline to submit orders was Feb. 7, but because of popular demand, Conroy will take requests up until Tuesday — though they might not make it back to the customer by Valentine's Day.
"My boyfriend keeps telling me, 'You can stop when you want to,'" jokes Conroy, who says she hasn't felt overwhelmed by it all — yet.
Love songs, Conroy says, come natural to her. She's been writing them for years — "for boys" and the people she cares about — but never for complete strangers.
"This is really different, to take someone's story that has nothing to do with me and to put myself in that person's place," she says. "That's been really cool."
It's the latest project in a long line of do-it-yourself experiments from the Lawrence native, who branched out from Cowboy to start La Guerre, a four-piece electronic indie-pop band, back in 2013.
Keeping organized with the steady influx of song requests (she sometimes receives up to six orders a day) is a challenge, admits Conroy, who also works as an assistant manager at Acme T-shirt shop when she's not pursuing her music.
But if there's one thing Conroy likes, other than love songs, it's a good challenge. The process is "helping me as much as it's helping anyone else," she says.
Oftentimes, that entails jotting down lyrics in bed, surrounded by her cats Weatherby and Heisenberg — besides her boyfriend, they're two of her greatest loves in life.
"For my own practice, I'm trying to keep all these songs very different from each other," says Conroy, who's also trying her hand at using more choruses. "It's finding all these different ways to say, I love you."
And, as it turns out, love comes in many forms.
Love songs
To hire Katlyn Conroy and La Guerre to write a love song for your Valentine, send an email to katlynconroymusic@gmail.com with your name and your story (the more details the better) by Tuesday. Conroy will also do cover songs or in a particular style of your choosing.
Sample lyrics from Katlyn Conroy's Valentine songs:
"You see, the sea, when you look, at me/
you told, me once, you were drowning/
and on that beach, i stand waiting/
to pull you close when you get too deep"
"if i'd known who you were, who you'd be now to me/
i'd have left long ago, traveled west, left a note/
saying 'don't waste your time, it's not long til you'll find/
it has never been them, you have always been mine/
and if there was something i could do to erase/
all the pain that you've felt, til only this remains."
So far, she's gotten requests from twentysomethings couples, married folks in their 60s and even a person who wanted a song for their best friend.
"Sometimes you have people who are so close to you that it's intimate, that you would die for each other," she says. "It's essentially the same as writing something for someone's wife."
In the past few weeks, opening her inbox has invited in a flood of "warm and fuzzies," Conroy says. Each song begins with an email from the customer, giving background on their relationship.
Some have been surprisingly personal, says Conroy, who was "shocked" to see how many stories have closely mirrored her own experiences. Love isn't always perfect, but it's always worth celebrating, she says.
"A lot of these people have not had perfect lives together. They'd had horrible things happen — tough times and illnesses — but they always find each other again," Conroy says. "When I read things like that, it gives me a lot of drive. It makes me realize how important it is to make something worthwhile for these people."
And it's what's keeping her going mere days before Valentine's Day. Soon, she'll start contacting her customers, asking them how they'd like their songs delivered.
Shooting off the mp3 file might be easiest way to go, but perhaps not the most romantic, admits Conroy.
Come Wednesday, "I'll probably just be at the post office for an hour," she says with a laugh. But she's happy to do it.
"This is getting to the root of what Valentine's Day could be," Conroy says. "You don't have to get someone fancy jewelry or meaningless expensive things. You can find something creative to show them how much they mean to you."
It's a practice we should keep up every day of the year, she thinks, not just Valentine's Day.
There might even be more commissioned songwriting projects in the future, if people are interested. For her next assignment, Conroy says she'd like to tackle a marriage proposal.
"It would be so much pressure, but if I could pull it off, that would be awesome," she says.