Wednesday, February 11, 2015
For Sweet Husband and I, our love story began young and poor. An art student and a law student, respectively, we both spent long hours at school, often only making it back to our tiny apartment in the wee smalls.

And that apartment was so tiny — just a few chilly rooms in one of those big, subdivided houses near KU campus. When we would fight, one of us would retreat into the kitchen and the other into the bedroom, but it didn't help. We could still see each other no matter how far apart we tried to get.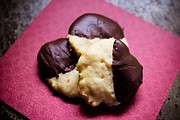 Thankfully that didn't happen too much. More often, our challenge was to find ways to surprise each other on our limited budget.

One favorite of those surprises were these chocolate-dipped orange shortbread cookies. Tucked into a book bag or left on the counter for a late-night snack, they were a sweet way to say, "I'm thinking of you" without spending the rent money.
Originally, we were buying them from the Merc, but then my dear sister-in-law took the ingredient list and worked us up a recipe. I've modified it over the years to use honey and orange juice instead of sugar and orange extract — I like the more mellow sweetness — but the amounts are the same, so use what you have.
If you want these cookies to be fancier, you can roll out the dough and cut it into heart shapes. (Be sure to dust everything with extra flour because this dough is super sticky.) Alternatively, if you want to skip the chocolate dipping step, feel free to mix in the chocolate chips as the last thing before you put the cookies onto your baking sheet.
No matter how you decide to put these together, they're best enjoyed with someone you love.
Chocolate-Dipped Orange Shortbread Cookies
(Makes about 20 cookies)
Ingredients
1 1/2 cups all-purpose flour
1/2 teaspoon baking powder
1/2 teaspoon salt
1/4 cup (1/2 stick) unsalted butter, room temperature
1/4 cup cream cheese, room temperature
1/2 cup honey
2 teaspoons (packed) grated orange peel
1 tablespoon fresh orange juice
1 large egg yolk
3 tablespoons milk
8 ounces dark chocolate chips
Directions
Preheat your oven to 350 F. Cover a large baking sheet with parchment or, alternatively, coat it in butter and dust it with flour.

Whisk the first flour, baking powder and salt in a medium bowl. Beat the butter, cream cheese, honey, orange peel and orange juice in a separate, larger bowl until they're fluffy. Beat in the egg yolk, then the milk. Add the flour mixture and beat until the dough comes together in a moist clump.
Drop the dough by generous tablespoonfuls onto your baking sheet, spacing the cookies about 1 inch apart. Using moistened fingertips, flatten each cookie to a 1/2-inch-thick round. Bake until the bottoms of the cookies are just barely golden, about 8-10 minutes. The tops should still be quite pale. Transfer to a rack to cool.
Meanwhile, melt the chocolate chips in a double boiler. Dip half of each cooled cookie into the melted chocolate and lay it on waxed paper to dry. Store in an airtight container; they'll keep for about 3 days.
— Meryl Carver-Allmond lives in Lawrence and writes about chickens, babies, knitting, gardening, food, photography, and whatever else tickles her fancy on any given day at mybitofearth.net.