Thursday, February 12, 2015
Name: Jennifer Scott
Age: 30
Hometown: Grand Rapids, Mich.
Time in Lawrence: Just visiting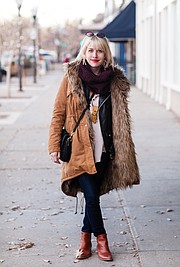 Relationship status: In one
Occupation: Department manager of Urban Outfitters in KC
Dream job: Some kind of design
What were you doing when scouted? Shopping
Describe your style: Vintage, a little bit bohemian with a little rocker edge and flair.
Fashion trends you love: Plaid, high-rise denim, leather jackets, layers and ankle boots.
Fashion trends you hate: Nothing I can think of at the moment. I'm sure if I saw something right now, I'd be able to say.
Fashion influences: Instagram, social media in general and people who I work with in the retail business help me draw inspiration.
What would you like to see more or less of in Lawrence? This is my first time in Lawrence, and so far I'm liking it.
Tattoos or piercings: Several tattoos. My favorite says, "Though she be but little, she is fierce," which is written in script is for inspiration.
Whom do people say you look like? I used to get Christina Aguilera in high school, but lately it's been an Olsen twin.
What type of music do you like? Modern folk, classic country and old-school.
Tell us a secret: I have a beautiful 6-year-old daughter! Most people don't know.
More like this story on Lawrence.com