Thursday, February 12, 2015
If the sight of store aisles packed with teddy bears and boxes of chocolate is any indication, Valentine's Day is just around the corner. Still haven't found that perfect last-minute gift or date idea? Don't worry, we're here to help.
This year, take the stress out of the Valentine's Day equation with the help of our roundup of some interesting and original activities you can do with that special someone. Whether you're happily coupled or going solo, there's something for everyone to love this weekend in Lawrence.
Foxy By Proxy's Fifth Annual Valentine's Day Cabaret at Liberty Hall
"We will roll your bones and make you feel warm and juicy," promises Foxy By Proxy Revue in advance of their yearly Valentine's Day cabaret, slated for Friday at Liberty Hall, 644 Massachusetts St. Sounds inviting, no?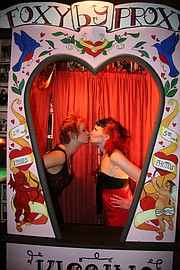 This year's extravaganza will feature guest artist Bebe Bonanza, plus contests and prizes galore.
Tickets range from $10 to $15. There's also a VIP option that includes front row table seating and a cream cheese doughnuts from Munchers Bakery. Snag tickets at the Liberty Hall box office or online. This one's for those 18 and over.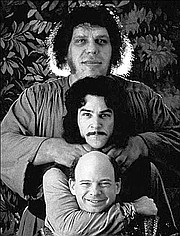 "The Princess Bride" at Liberty Hall
Not sure where to take your cinephile sweetie this Valentine's Day? Liberty Hall, 644 Massachusetts St., is screening "The Princess Bride" throughout the evening.
Adults will appreciate the film's irreverent humor and romance, while kids will love all the fairy-tale elements, from swordplay and pirates to the beautiful Princess Buttercup and the evil Prince Humperdinck.
Catch the 1987 classic at 4, 7 or 9:45 p.m. Admission is $8 for adults, and $7 for seniors and children under 12.
Dance classes at Dance Because
Instructors at Dance Because, 3300 Bob Billings Parkway, are inviting couples to spice things up Valentine's Day with a roster of fun dance classes.

Choose from a "sweetheart swing" at 6 p.m. or a "romantic rumba" at 7 p.m. for $25 per couple. For an extra $15, customers can enjoy a beginners' salsa lesson at 8 p.m., followed by the Valentine's Dance from 8:50-10 p.m. — song requests are welcome, and hot cocoa and sweet treats will be served.
Going solo this Valentine's Day? Dance Because is also offering a single ladies salsa class at 8:30 p.m. Friday for $10 per person. Sorry, guys — no boys allowed.

To reserve your spot, visit www.dancebecause.com or call 913-428-9928.
Pot O' Honey at the Lawrence Percolator
In conjunction with The Love Show, the Lawrence Percolator, 913 Rhode Island St., will host its showcase of female performers from 6:30 to 9:30 p.m. This year's event promises music, dance and poetry, as well as a few short-film screenings.
The Pot O' Honey lineup includes Raghsidad belly-dance troupe, "ethereal folk" group The Ovaries-eez and Deborah Pine of world-music outfit Lila.
Check Facebook for a full schedule.
Sweetheart Swim at Lawrence Parks and Recreation Indoor Aquatic Center
For Valentine's Day, Lawrence Parks and Recreation Department is hosting a two-for-one deal at its Indoor Aquatic Center, 4607 Overland Drive.
Bring your sweetheart or pool buddy and receive admission to the facilities for half the price. Usually, adult admission is $4 per person, while kids get in for $3.
Check www.lawrence.org for pool hours.
Black Luck's Valentine's Ball, with Josh Berwanger Band, at the Replay Lounge
The artists formerly known as Black on Black will play their signature garage-punk tunes at the Valentine's Ball at Replay Lounge at 946 Massachusetts St.

The event, from 10 p.m.-2 a.m., will also feature Kansas City-based rockers Josh Berwanger Band.
Contact the Replay Lounge at 749-7676 for details.