Thursday, February 19, 2015
Name: Jacob Miller
Age: 20
Hometown: Overland Park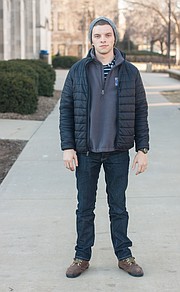 Time in Lawrence: This is my second semester here.
Relationship status: Single
Occupation: I'm currently studying theater
Dream job: I would like to play Terry McGinnis. He's the futuristic Batman.
What were you doing when scouted? I actually just picked up some music from a musical ("Flora and the Red Menace") that I got a role in.
Describe your style: I enjoy color blocks rather than logos. Simply put, it's almost smart casual.
Fashion trends you love: I like how fashion is leaning toward slimmer-fitting clothes. I also like (how current trends are bringing back) older pompadour hairstyles and fancier clothes.
Fashion trends you hate: I don't really like bright neon colors. They bother me.
Fashion influences: I browse Pinterest and also take style tips from characters in movies. I'll also do some treasure hunting in places like Goodwill.
What would you like to see more or less of in Lawrence? Style-wise, I'd like to see people exploring other options and a little less wearing KU gear [all the time]. I enjoy when people express their own styles. It tells a lot about them.
Whom do people say you look like? Adam Scott from "Parks and Recreation"
What type of music do you like? I enjoy all types except for country. My favorites are oldies like the Rat Pack and Frank Sinatra.
Tell us a secret: I got a role in the musical "Flora and the Red Menace" and it's the dance part. I'm the character that does all the dancing, and basically I have never really danced…
More like this story on Lawrence.com