Saturday, February 21, 2015
Go ahead — ask Kathy Pryor about Oscar.
In addition to her duties as managing director and budget officer of theater at Kansas University, Pryor also serves as a caretaker of sorts for a 53-year-old Academy Award statuette that once belonged to playwright, novelist and KU alumnus William Inge.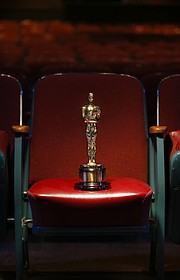 Listening to Pryor talk about the 13 1/2-inch-tall, 8 1/2-pound trophy is almost like hearing her reminisce about an old friend. It's not long into a conversation before she refers to the Oscar — Inge won in the best original screenplay category for 1961's "Splendor in the Grass" — as "him."
"I have made him very personal," she says. "I think because I've been here so long, I've formed a real attachment to the Oscar and the history."
Looking after the award has been her "thing" for a long time now. Pryor joined the theater department as a part-time secretary in 1978, five years after Inge's family gifted the theater department with his Academy Award.

The Independence native committed suicide in 1973 following a decades-long struggle with depression. He was 60 years old.
Inge's Oscar, perhaps the last symbol of his critical success, has remained at KU's Murphy Hall ever since.
KU theater department staffers keep it locked away somewhere inside the building, though Pryor doesn't like to reveal the location. Displaying it permanently would pose security issues, she says.
"There's no way to replace it," Pryor says of the golden statuette, which enjoyed a refurbishing from the Academy 15 years ago. "It's priceless."
Still, "a couple times a year" on very special occasions, the Oscar comes out of hiding.
Most recently, he made an appearance Wednesday night at a reception for KU Theatre's upcoming "A Raisin in the Sun," where he posed in pictures with students, faculty and staff, and theater patrons.
Watching students interact with Inge's Oscar is the most fun, Pryor says.
With a "light in their eyes," the aspiring thespians hold "him" as if they had just won their own Academy Award, expressing their gratitude to the parents and teachers who made it happen.
"It serves as an inspiration, I think, to see someone from the Midwest who went through KU and did such important work," Pryor says of Inge's award. "I think that's vital to students."
This year's Academy Awards ceremony will be held at 6 p.m. today and will be broadcast live on ABC.