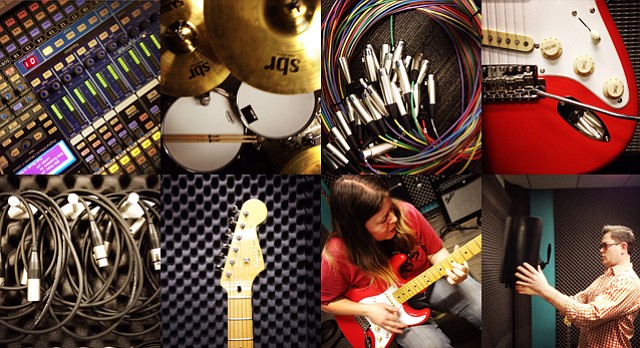 Saturday, February 21, 2015
Things are starting to get loud at the Lawrence Public Library.
Since the arrival of sound engineer Ed Rose in early January, the Lawrence Public Library's Sound + Vision recording studio has become a hotbed of creative activity. These days, you'll probably have to schedule at least a week in advance if you want to book a weekend slot, says Rose.
With all the noise — pun intended — coming out of the library's lower level, we decided to check out who is using the studio and what kinds of projects it's being used for. Here's a sample of we saw and heard during a week spent at Sound + Vision.
Tuesday, 9:30 a.m.
As far as Maurice Flowers is concerned, music — more specifically, hip-hop — has no age limit.
Today is his 45th birthday, and he's decided to spend the morning at the library, where his four-piece hip-hop outfit, The Local Legends, is recording its latest album, "Grown Folks Hip Hop."
"As I got older, the music got younger… and dumber," says Flowers, who also goes by the moniker DonnDilla. "That's what I write — content for people who grew up on real hip-hop."
With the exception of Justin "Duecey" Lindeman, the group's youngest member and Flowers' protégée, the Legends are all in their 40s. Most are married. Richard Thomas and Eugene Cowper (who perform as Papa Rich and Mac-Man Supreme, respectively) both have children.
The veteran rapper and producer — Common and Twista were among Flowers' peers in the burgeoning Chicago hip-hop scene of the 1980s — says Rose and the library's recording studio has arrived at the perfect time, "right when the industry is changing so drastically."
Within the last five years, he says, the number of record companies willing to take on hip-hop artists has dwindled down to three giant monopolizers. "They bought up the rest of them," Flowers says.
What's left is a scourge of "negative hip-hop" that the Local Legends say glorifies drugs, violence and the objectification of women.
"I mean, positivity — where's that?" Cowper says after his turn in the soundproof room. "That's taken a backseat in the hip-hop world."
"Grown Folks Hip Hop" represents a new style that Flowers is calling "conscious music with an attitude."
Their songs are about making good choices, Thomas says. "But does the mainstream really want this?"
"It doesn't matter, though." Flowers says. "Because we're going to give it to them."
Wednesday, 9:30 a.m.
"The entertainment called in sick today," says Beth Meyers, explaining why she won't be recording a musician friend today as she had originally planned.
Instead, Meyers — a licensed sound engineer with more than 40 years of music-industry experience under her belt — is taking the morning to brush up on the library's new equipment.
"Audio's always been my first love," says Meyers, who first discovered her craft as a teenager in the 1960s. "Music brings back memories. It's like a time machine."
Today, Rose thought they'd practice on David Bowie's "Sound and Vision" as covered by Lawrence Public Library Director Brad Allen. The song just happens to share the name of the library's recording studio.
They're about 20 minutes into the session when another library regular, Oliver Hall, pops into the studio. Hall uses the space to orally record historical documents like the Constitution and Magna Carta, and plans to send the recordings to the Smithsonian in Washington, D.C.
The three chat for a few minutes before Hall heads back upstairs, leaving Rose and Meyers to resume their lesson.
It's a bit of a learning curve, admits Meyers, who has worked as a broadcast engineer for television news crews and public radio stations in Wichita and Lawrence. Most recently, she's been volunteering at Theatre Lawrence, where she regularly operates the soundboard during performances.
"That's the cool thing about Beth. She comes from the lab coat era of engineering," Rose says. "When you'd walk into a studio, the guy sitting in the chair was an actual engineer — not the guy who rolled the best joints and told the funniest jokes."
Meyers nods in agreement. Back in those days, "everyone knew everything," she says. "You had to."
Thursday, 9:30 a.m.
"All right, I'm going to make some noise," says Jesse Gray, rising from behind the control board.
The 35-year-old musician and visual artist steps into the studio's soundproof room, picks up a pair of drum sticks and starts to play.
Rose sticks around for 15 minutes or so, giving Gray a rundown of the equipment before ducking out into one of the adjacent editing bays.
While he'd eventually like to bring a buddy of his to the library to help with the engineering process, today Gray says he's happy just to "mess around" by himself.
"Part of the fun with this is having to run back and forth, checking out what everything sounds like," says Gray, who started singing before taking up the drums, guitar, piano and harmonica. "And not expecting to get much accomplished."
Growing up in a rural area outside Austin, a teenage Gray and his friends would sometimes play massive shows inside barns. They'd have black lights on hand to complement their psychedelic jams, he remembers.
These days, his music still has that funky, 1960s vibe to it, along with classic rock and country.
It's been a while since he's performed in a barn, but that's OK. Gray's sons, ages 3 and 7, are starting to follow in their dad's footsteps.
His older son recently graduated from the ukulele, which he played as a toddler, to the guitar.
The younger Gray, meanwhile, seems to enjoy the piano.
"I think he's gonna be a drummer," Gray says. "If he wants to be."
Thursday, 1:30 p.m.
This could be the start of something good.
It's Thursday afternoon, and Mickie Wells and Jack Snodgrass are having a jam session — their first in the library recording studio.
Together, the longtime friends are forming a new band, The Kickbacks. Wells describes their sound as "1960s blended with alternative rock and grunge."
Being the musical maverick she is — Wells recently performed as MickaDiva, singing backup vocals in a local hip-hop band, and is now trying her hand at guitar — the 44-year-old also wants to "incorporate some techno beats" à la Deadmau5.
Aside from their shared love of music, the two friends have a lot in common.
Both served in the Army — Snodgrass, 59, was barely out of high school when he left home for Vietnam in 1972 — before moving to Lawrence and meeting each other 17 years ago.
Snodgrass, a drums devotee since childhood, isn't able to play much these days. It's not easy to practice without running into noise complaints at his apartment complex.
He's glad have a place like the library.
"Lawrence needs this," agrees Wells. "We absolutely need this."