Thursday, February 26, 2015
In "Kabuki Rehearsal," the 2012 lithograph by Roger Shimomura, a performer looks into a mirror at his reflection. His elegant appearance — red lips, black hair coiffed into a bun — contrasts sharply with the barrack walls and "ever-present" barbed wire of the internment camps, where so many strove to preserve their cultural art despite imprisonment.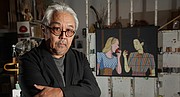 "They'd rehearse these plays, and that's the moment the lithograph attempts to capture," Shimomura says. "It's an interesting juxtaposition of something traditionally Japanese with the barbed wire in the background."
Shimomura, 75, spent three years of his childhood in Minidoka War Relocation Center in southern Idaho. He and his family were among the approximately 110,000 Japanese Americans imprisoned during WWII.
The experience left an indelible mark on Shimomura, who would eventually become a celebrated artist in Lawrence — where he taught art at Kansas University for 35 years — and around the globe.
For one night only on Friday, Shimomura will offer "Kabuki Rehearsal" and approximately 35 other prints at a solo show at Lawrence Creates Makerspace, 512 E. Ninth St. The reception will run from 5:30 to 9 p.m.
Shimomura, who retired from KU in 2004 and now holds the title of distinguished professor of art emeritus, has seen his work among the permanent collections of more than 90 museums nationwide, including the Metropolitan Museum of Art in New York City and the Museum of American Art and the National Portrait Gallery at the Smithsonian.
Throughout his prolific career, Shimomura has explored what it means to be seen as an outsider within his own American culture. His few memories of Minidoka — combined with entries from his grandmother's diary — provided the basis for much of his early work.
A third-generation American, Shimomura's art combines the aesthetics of Japanese woodblock prints with the saturated hues of Pop Art and his childhood love of comic books, often confronting ugly stereotypes of Asian Americans left over from WWII.

Throughout is a common message. "I'm not Japanese. I'm American," says Shimomura, who will also give a short talk Friday at 6:30 p.m. about his beginnings in printmaking.
While it's easy to become "worked up" reflecting on these issues, it's not the kind of anger that leads to physical violence, says Shimomura.
"There is a creative way of funneling that into your work. I tried to teach students that in the years I taught at KU — how to mediate personal issues," he says. "It didn't have to be about ethnicity. It could be about parents, finances, anything."
Despite his "purely American" upbringing and education — the Seattle native served as an officer in the U.S. Army before studying art at the University of Washington and Syracuse University — Shimomura says people still look at him and see a foreigner.
That's certainly the case here in Kansas, where Shimomura settled in 1969 after accepting his teaching position at KU.
While attending an auction in those early years, a farmer asked the artist how he had learned to speak English and if he painted geisha girls, Shimomura recalls in "American Knockoff," a 2014 catalogue of his recent work.
Ultimately, though, he found himself growing attached to Lawrence, where he has maintained a home for nearly 50 years.
The city has become more culturally aware in that time, Shimomura says, but experiences like that day at the auction have continued to fuel his work.
"I really doubt whether I'd be doing what I've been doing had I been living on the West Coast," he says. "Living in the Midwest, certainly, has made all the difference in the world."
Other Final Friday happenings
Here are a few highlights of February's Final Friday events. Check out the complete schedule for more ideas.
• Hank Charcuterie, 1900 Massachusetts St., will make its Final Friday debut this weekend with the opening of Nicole Cawlfield's Dark Farm Series. In her most recent work, the photographer transfers her images of abandoned Missouri and Kansas farm structures onto salvaged antique ceiling tiles. A reception will be held from 4 to 7 p.m., and will include hors d' oeuvres and drink specials.
• At the Lawrence Percolator, 913 Rhode Island St., a group of Kansas artists will share their work as well as stories, images and information about the Kansas Paraguay Exchange. The organization promotes cultural understanding and fosters international economic and social connections between Kansas and Paraguay. Judith Burns McCrea, Amber Hansen, Eric Conrad and Marguerite Perret will be on hand for the event, which will include a brief presentation at 7:30 p.m.
• JJ's Glass, 313 E. Eighth St., will hold an "Open House & Gypsy Market" from 5 to 9 p.m. Local glass artists will give glass-blowing demonstrations during the event, while the gypsy-market portion will focus on handcrafted art and goods made by local artists.