Thursday, January 1, 2015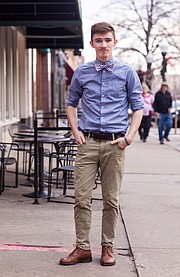 Name: Cameron DuPratte
Age: 21
Hometown: North Dakota 
Time in Lawrence: A few years
Relationship status: I'm in one.
Occupation: I'm a fine-art student and I work as a barista at Signs of Life.
Dream job: It's a tie between a film director or a baker.
What were you doing when scouted? Working
Describe your style: It's kind of a fusion between urban hipster and probably lumbersexual.
Fashion trends you love: Leather mid-top boots, long, fun-colored socks, bow ties worn un-ironically and leather jackets.
Fashion trends you hate: Bow ties worn ironically. I'm not a fan of the high socks worn with basketball shoes. But then again I understand that's just a different style. I respectfully don't like it. Really, I'm pretty open to most stuff.
Fashion influences: Probably, my biggest one is (people watching) here on Mass. Street as well as Instagram.
What would you like to see more or less of in Lawrence? I would love to see more moustaches and less puffer vests (for women) with yoga pants.
Whom do people say you look like? Hiccup from "How to Train Your Dragon."
What type of music do you like? Modern folk, alternative rock and choral music.
Tell us a secret: I have only gone streaking twice!
More like this story on Lawrence.com