The arrival of a new year for many people means making goals for personal and professional improvement. For gardeners, here are a few ideas for the resolution list:

Catch that pesky mole.
You know the one — the little critter that pushes up a giant mound of soil or makes a new tunnel just often enough to remind you it's still there. You bought a trap and maybe you've even moved it once or twice. But this year, you're going to figure out where the mole's active tunnel really is and set the trap in it instead of just some random place in the yard.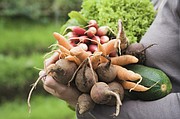 Service the lawn mower.
An oil change, a new spark plug and a sharp blade work wonders at extending the life of a lawn mower. Even better, get this work done during the late winter months and you'll be ready to go when the grass starts growing again. Hopefully you remembered to drain the gas or use a fuel treatment before putting the mower away for winter.
Weed the garden/landscape in July and August.
The summer heat is enough to shy even the most dedicated gardener away from the garden some days. Unfortunately, crabgrass and other summer annuals are prolific seed producers, so if you leave them this year it will mean more work the next. Mulch applied earlier in the season goes a long way toward preventing late-summer weeds. When it does get hot, work in the morning or late evening when temperatures are less extreme.
Grow something you can eat.
Basil, oregano and other herbs are an easy start to edibles. Tomatoes and peppers also perform well in large containers or in the ground. Tuck them in amongst the flowers and shrubs if space is limited. Swiss chard, kale and sweet potatoes are great choices to add edibles with an ornamental flair.
If you're growing more than you can eat: Donate.
Just Food accepts fresh produce donations, and Douglas County Extension Master Gardeners help collect it for the organization. Call either group for details during the season. Your neighbors, co-workers, friends and family will also be thankful if you share.
Buy more plants from local garden centers.
Clinton Parkway Nursery, Howard Pine's Garden Center, The Henrys' Plant Farm, Vinland Valley Nursery, Water's Edge, and the Midwest-based chain Earl May Nursery and Garden Center stock plants that are well-suited for the Kansas climate. They are also more likely to have knowledgeable employees who can make recommendations to help you fill that tough spot in the landscape and less likely to sell you a plant that already has an insect or disease problem.
— Jennifer Smith is a former horticulture extension agent for K-State Research and Extension and horticulturist for Lawrence Parks and Recreation. She is the host of "The Garden Show" and has been a gardener since childhood. Send your gardening questions and feedback to features@ljworld.com.
More like this story on Lawrence.com