Saturday, January 3, 2015
Recently I visited a friend who had some old photo prints of her family. She no longer had the negatives but wanted to make reprints for her granddaughter. I suggested I could digitally copy them with my camera right there and then email the digital files.
I'm betting many of you encounter situations like this. Maybe you're in a family that's accumulated a collection of prints through the years and now want to bring them into the 21st century. A simple solution is to use your digital camera or even your phone camera. Because both devices are portable, this provides the ability to digitally copy any printed photo or document anywhere and at any time.
Any digital camera will work, but I recommend that it have a minimum of a 4-megapixel resolution. A 4MP camera should be good enough to produce digital files capable of reproducing 4-by-6-inch prints.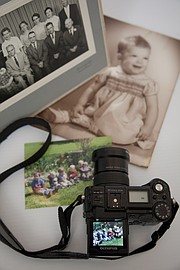 Today, most people have cameras with 8MP or higher resolution, and files that size will capture enough digital information to enable reproducing large prints from even small print photos.
I photographed my friend's prints flat on a floor, although I prefer to stand while doing copy work. I'll use a wall or prop up a piece of foam core board and attach the prints. I use pins or a removable mounting adhesive to keep photos flat and in place.
Have old photographs you're looking to bring into the digital age? Here's how to do it yourself:
• Set your focus, white balance and exposure to auto and turn your flash off.
• Adjust your ISO — the camera's light-sensitivity setting — to a lower setting, such as 200, to maintain a high-quality digital file.

• If the exposure requires a shutter speed longer than 1/125th second, you should use a tripod or increase your ISO.
• Fill your camera's monitor display with your photo print and try to square up the edges of your camera frame with your print.
• To help square up your photo in your camera, don't use the wide-angle lens setting because it can distort the print. Instead, back off a little from the print and use the lens in the middle of its zoom range.
• If it's a very small photo print, you may need to put your camera in macro mode to fill your frame.
• If your print is glossy and includes dark areas, you may see light reflected in those areas. Relocate your print to a different spot or adjust the angle of the print to try to eliminate reflections.
• If you are in a location where you can access directional desk lamps, you can put them to each side of the print and pointed at a 45-degree angle. This should provide a fairly even light on the print and eliminate reflections.
From this point you can easily download your new digital copies to a computer where they can be copied to discs and drives or e-mailed to family and friends. So for a new year's resolution, how about turning old family photo prints into new digital resolutions?
— Chief Photographer Mike Yoder can be reached at 832-7141. Check out the Journal-World photographers' photos of the year at LJWorld.com.