Originally published January 8, 2015 at 3:27 p.m., updated January 8, 2015 at 10:42 p.m.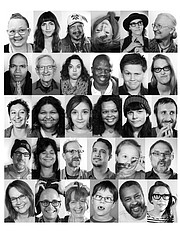 The community photo project Lawrence Inside Out is gearing up for one more month of public portrait sessions before preparing its citywide exhibition
With over 400 black-and-white portraits taken already, Lawrence Inside Out is a community photography project spearheaded by local artist Rachael Perry that puts the spotlight on Lawrence residents and their connection to creating and supporting the arts. Accompanying each portrait is a quote from each subject saying what role they play in the arts community.
Perry invites Lawrencians of all ages to be part of the project. Participants' images will be printed large-scale, and in April she plans on displaying the photos in as many public indoor and outdoor spaces and businesses as she can.
Below are the times and locations of the upcoming portrait sessions. Portrait sessions may also be set up on an individual basis at the Lawrence Creates Makerspace.
• Noon-3 p.m. Saturday in the Lawrence Arts Center lobby, 940 New Hampshire St.
• 1-3 p.m. Jan. 18, at the Spencer Museum of Art, 1301 Mississippi St.
• 5-8 p.m. Jan. 22, in the Lawrence Arts Center lobby
• 6-8 p.m. Jan. 30, the Watkins Museum of History, 1047 Massachusetts St.
For more information, visit lawrenceinsideout.com.