Thursday, January 15, 2015
Penny Weiner knows Chekhov.
Weiner, an associate professor of theater at Washburn University, has read every play by the Russian author and dramatist, and three years ago directed one of his most well-known, "Uncle Vanya," at Washburn.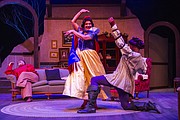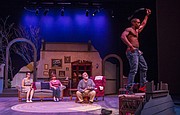 If you go
What: "Vanya and Sonia and Masha and Spike"
Where: Theatre Lawrence, 4660 Bauer Farm Drive
When: 7:30 p.m. Jan. 16, 17, 22, 23 and 24. 2:30 p.m. Jan. 18 and 25.
Cost: Tickets start at $15, and can be purchased online or by calling 843-7469.
That's partly why she loves "Vanya and Sonia and Masha and Spike," a modern-day "mash-up" of Chekhov works, set to open Friday at Theatre Lawrence, 4660 Bauer Farm Drive.
"You don't have to know the references, but if you do, you'll get an extra little chuckle out of it," says Weiner, the show's director.
The quirky comedy, which won the 2013 Tony Award for best play, abounds in Chekhovian themes, including the futility of the upper classes. Others, like family, loss and longing, are also present.
Set in modern-day Pennsylvania, the play opens on siblings Vanya (played by Steven Fendt) and Sonia (played by Peg Sampson), who despite reaching middle age, have failed to grow up.
Their parents, both theater professors, named them after Chekhov characters — a "burden" that has branded them exotic, relics of a bygone era stuck in 21st-century America.
Jobless and aimless, they spend their days lamenting what-ifs and failed dreams at their now-deceased parents' house, while their movie-star sister, Masha, pays the bills.
It's when Masha, played by Widge Yager, returns to the family home (with her boy toy, Spike, in tow) that all hell breaks loose. Arguments ensue, reaching their climax after Masha states her intention of putting the property (which includes a grove of cherry trees, itself a reference to Chekhov's "The Cherry Orchard") up for sale.
The news devastates Vanya and Sonia.

"They cling to this idea of this grandiose estate and cherry orchard. They refuse to sell their estate and end up losing it," Weiner says. "They refuse to take any precautions because they're all stuck in the past."
By remaining at home and taking care of their elderly parents, the pair "forgot to build a life for themselves," Fendt says.
His character acts as mediator between the quarreling sisters — when he's not distracted by the buff Spike (played by Jeffrey Robertson), a narcissist who enjoys stripping down to show off his body.
The role wasn't much of a stretch for Fendt, who admits he sees "quite a bit" of himself in Vanya. Both men are around the same age, though Vanya may be a tad more snarky, he says.
Like Vanya, his 1950s childhood didn't involve any of the gadgets kids use today.
When Vanya becomes frustrated with twentysomething Spike's frequent texting, he yells, "We used to lick postage stamps!" It's a reference to days gone by that's become one of Fendt's favorite lines in the play.
"It was interesting to hear how some of the observations that we have in the play relate to real-life situations," says Fendt, referencing his character's discomfort with technology. "The electronic age has advanced us but has also stifled us a bit."