Saturday, January 17, 2015
Traditions Night, August 2013: It had been nearly 14 years since Christopher Enneking's last game at Kansas University's Kivisto Field, where he played offensive lineman for the Jayhawks from 1995 to 1999.
That night he had returned not to play football but to recite his poem "Son of Lawrence, Kansas" to incoming freshmen.

Around 7,000 people had piled into Memorial Stadium that evening, nearly the size of the crowd at Enneking's final KU game.
As an athlete, both in college and in the arena-football circuit, Enneking was used to performing in front of large crowds. But this was different. This was personal.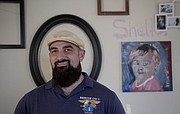 On that balmy late-summer night, Enneking read his poem alone — no teammates, no coaches — and perhaps most noticeably, without a helmet.
It was the first time people in the stands could see his face down on the field.
"They never cheered for me. I was involved when a guy scored a touchdown, but they never were cheering directly for me," says Enneking, who equates the work of a lineman to a cog in a machine. "So, to have that experience was really unique."
As an athlete, he was always told what to do. His effectiveness on the field hinged on being able to execute a given play. As a fledgling poet, there was "no clear-cut measure of I'm good at it or successful at it," Enneking recalls.
But the folks at KU's Office of Marketing Communications liked his poem, and asked Enneking to write another — this time about KU traditions — and perform it in a video.
The result, "Welcome to KU," juxtaposed iconic pictures and footage with Enneking's words, delivered in the deep, booming voice one might expect from a former football player.
"Welcome to KU" became something of an Internet phenomenon after its debut at the 2014 Traditions Night, and to date it has close to 16,000 views on YouTube — a possibility that never dawned on him during its production.
"If you had told me five years ago that KU would ask me to come back as a poet, I would've been like, 'That doesn't make any sense,'" says Enneking, who studied secondary math education before dropping out of college to play arena football in 2000.
Back in those days, classes involving writing were to be avoided. English 102 was the extent of Enneking's literature education.
He returned after a few years and graduated in 2007, this time with a sociology degree, and accepted a coaching job at a private Jesuit school in Denver.
It was 2008 or 2009, Enneking recalls, and the country was in the middle of its worst financial crisis since the Great Depression. With the coaching season winding down and few job prospects, Enneking made a move that would change his life forever.
He spent the next winter living in Colorado's Cherry Creek State Park, where staffers allowed him to pitch his tent in exchange for working as a maintenance man.
"They were like, 'Wow, that's really crazy. This is like 'Into the Wild,'" Enneking remembers. "They told me, 'You should be journaling about this.'"
So, he started journaling. Poetry soon followed.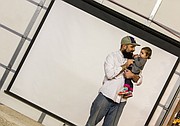 It wasn't hard to find inspiration in the frigid beauty of a Colorado winter.
One morning, Enneking woke inside his tent, barricaded by the 14 inches of snow that had fallen overnight. After the snow had melted a few days later, he was sitting in a field, "eye-level with the Rocky Mountains," when he thought, "I gotta do something."
Enneking realized that his poem about the changing season was symbolic of "transition and life and death." Less than a week later, he performed it — his first in front of strangers — at his grandmother's funeral.
Poetry, he says, allows him to capture the "stillness" of memories. Enneking tries to keep paper and a pencil on him at all times (friends call it his "myPad") to document everyday experiences.
"It's almost like a time machine that takes me back to that moment," says Enneking, who goes by Topher in poetry circles. "I still feel like I'm leaning up against that one-man blocking sled in Colorado."
But Enneking is all about moving forward, too. These days, he's keeping himself busy — when he's not at his day job as a paraeducator at South Middle School — with an ever-evolving list of projects.
He was a performer at last year's Busker Fest, and participates in Red Tail Reading, a poetry collective, every other Thursday at Gaslight Gardens. Enneking also dabbles in the visual arts.
Recently, he created an installation out of found objects, "Tree Currency," that was displayed at the Spencer Museum of Art.
Enneking's personality, much like his muscular, 6-foot-4 frame, is big. He "attacks life" and art with an almost child-like enthusiasm.
His lack of formal education in poetry and his relatively late start ("I'm in preschool now as a poet," he says) are liberating, Enneking says.
"The idea of being too dumb to know any better is probably one of my greatest strengths as a creative person," Enneking says. "I come from this place where I don't have that cacophony of voices telling me I'm not doing it right, so I'm not as afraid as a lot of people are."
It's a message he wants to pass along to others, especially his 17-month-old daughter, Francesca.
"I think that my main focus now as an artist is to find ways that I can share with my daughter that all she needs is words, and she can shape the existence that she shares with the rest of the world. That she can create anything she wants just by opening her mouth and flapping her gums, or by putting pen to paper, or by taking pieces of trash by the side of the road and turning them into an installation."
She sometimes does "duets" with her father, humming or cooing along to his poems.
The tiny wordsmith experienced a milestone last month while performing "Welcome to KU" with her father at the Lawrence Creates Makerspace chautauqua.
The elder Enneking had just recited the line, "Past, present, future, prelude and sequel," when Francesca blurted out that last word ("SEQUEL!") for the first time.
That's something Enneking will never forget, he says.
More like this story on Lawrence.com