Brittany Keegan is standing opposite a massive quilt that hangs from the wall of a sun-drenched room on the second floor of the Watkins Museum of History.
"That's us," says the museum's curator, pointing out a nickel-sized patch of red fabric from which gray and white thread billow out, symbolizing smoke. "Burning."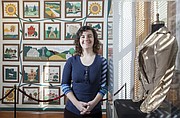 If you go
What: "A Stitch in Time: Lawrence History through Textiles"
Where: Watkins Museum of History, 1047 Massachusetts St.
When: Exhibit opens Jan. 30 and runs through April 11
By "us," she means Lawrence. More specifically, Lawrence during Quantrill's Raid.
The tragedy is shown from a bird's-eye view, its flames a tiny dot against the rolling hills of northeast Kansas. Surrounding that scene are at least a dozen others, each depicting a different place or event from Douglas County's history.
The quilt, created nearly 40 years ago for the U.S. bicentennial by the Kaw Valley Quilters Guild, is one of about 20 pieces in a new exhibition set to open Friday.
"A Stitch in Time: Lawrence History Through Textiles" traces how handicrafts like quilting, crocheting and knitting have fulfilled a vital social role in Douglas County from the 1850s to contemporary times.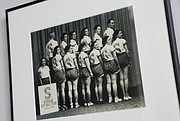 "If people take away anything, I really hope they take away the celebration of all these skills," Keegan says. "That you can make these beautiful and interesting things, either on your own or with a group."
Culled from the Douglas County Historical Society's collection, the artifacts include quilts, clothing and other textiles, as well as photographs and antique sewing machines and tools.
Keegan, who began work on the exhibition early last month, says the original plan was to find a place for the several quilts and afghans that had been sitting in the museum's attic.
Several of them, she realized, had some pretty interesting stories.
"Everyone needs clothing and everyone needs bed linens, but if you think about it, people had to learn these skills, and it really kept families moving forward," Keegan says. "I think that surprised me the most."

A few years back, a local woman donated a quilt that had been in her family since the Great Depression.
"It was a project between a grandmother and her granddaughter," Keegan says. "They stitched it together out of fabric from old clothing from the family."
Times were tough, and "they needed to use all the resources they could to help themselves survive the winter," she explains.
Take a look at the quilt, now displayed in "A Stitch in Time," and you can see bits of a red crocheted shawl, an overcoat and a man's pinstripe suit — items from family members lovingly recycled into a keepsake that would be handed down from one generation to the next.
The ability of textiles to bring people together is a common thread throughout the exhibition, Keegan says.
One of her favorite rediscoveries from the attic is a photograph of a women's softball team, circa late 1940s or early 1950s.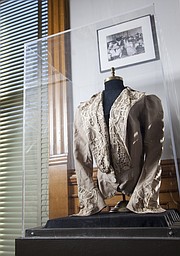 In the picture, a group of 10 young women pose in vintage uniforms, their backs turned to the camera. Their strong, healthy legs feature predominantly, un-Photoshopped, cellulite and muscles and all.
Keegan doesn't know much about the photograph, but she does know Singer sewing machines sponsored the team "as a way for women to get together and go play," a fairly novel idea at a time when most girls were discouraged from "unladylike" sports.
"I think it plays into the whole idea of knitting and stitching and sewing being this very social activity for a long time, and then as the new century [emerged] and later in the mid-century, you see sewing machines sponsoring other ways of socializing," she says.
It's a trend that has re-emerged in recent years, with the popularity of DIY culture and online craft marketplaces like Etsy.
While most of us no longer need to sew our own clothes or crochet our own blankets, the basic need to connect with others is still there, Keegan says.
"I have friends who have taken up knitting at certain points, which, being in your twenties or thirties, seems a little funny to me," she says. "But you know, my grandmother quilts, and the idea that it's coming back in the younger generation is pretty cool, I think."
"A Stitch in Time" will run through April 11 at the Watkins Museum.