Saturday, January 31, 2015
With Valentine's Day on the horizon, the Lawrence Percolator is hosting a show that celebrates devotion in all its forms.
This year's exhibition, The Love Show, is the Percolator's third based on that theme. It opened during January's Final Friday event and will run until Feb. 22.
Photo Gallery
The Love Show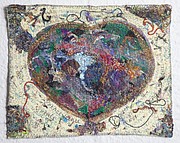 Some of the works by local artists on exhibit at The Love Show at the Percolator through Feb. 22.
Every winter, organizers invite artists of all ages and skills levels from the Lawrence community to submit work "pertaining to all issues of the heart," says Percolator co-chair Matthew Lord.
"We want to encourage people to be creative in however they want to express themselves," he says of the show, which features about 40 pieces of art.
The mediums and techniques on display are diverse — jewelry making, painting, sculpture, handmade dolls and valentines, tapestries and more — but all evoke a common theme.
Despite falling close to Valentine's Day, the exhibition isn't limited to romantic or erotic love. There's also the love we share for family, friends, pets and even nature, Lord says.
"It's the time of the year when people are needing a little warmth," he says. "It's cold outside and people are happy to see this artwork that's inspired by the love in their hearts."
While previous love exhibitions have included poetry, this one will focus solely on visual arts.
Among the artists featured in The Love Show are Dixie Lubin, Andrea Repinsky, Malika Lyon, Anne Burgess, Paul Punzo, Leo Hayden and more.
As in years past, The Love Show is held in conjunction with Pot O' Honey. The Percolator's annual showcase of women performers is slated for Valentine's Day, and will feature music, poetry and dance.
Planning this year's exhibition, Lord says, reminds him of "the beauty behind these Percolator shows," where a child's crayon drawing can hang alongside the work of a more seasoned artist.
"When there's a large amount of submissions that celebrate love, it brings a lot of people, who also bring their friends," he says. "It's a nice community spirit."
The Lawrence Percolator, 913 Rhode Island St., is open Saturdays and Sundays from noon to 6 p.m.