They might look like small pieces of chocolate cake from far away (remember Hostess Zingers? I do, because my mom never let me near them as a kid) but the salted caramel bacon pops at Ted's Taphouse are a mostly savory affair.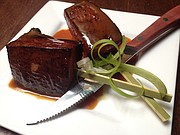 Dreamed up by chef Amos Hurst, the ultra-luxurious bacon pops debuted about two weeks on Ted's new menu. Each 3-ounce rectangular cuboid (apparently, that's like a cube, but without all the square sides) is cured and smoked in-house, grilled, skewered and served up on a plate of Ted's homemade salted-caramel sauce.
From what bartender/server Amanda Rouillard tells me, they're usually split between two people — which makes sense, given how rich these salty-and-sweet little pops are. She's yet to see anyone hold the pops by the stick and take a bite Popsicle-style, though. This is one kind of finger food that's probably best eaten with a fork and knife.
Where to get it: Ted's Taphouse, 1004 Massachusetts St.
What you'll pay: $6 for two bacon pops
Try it with: A cold one. Ted's has more than a dozen craft beers to choose from.
Also on the menu: Plenty of appetizers (if you're a fan of the bacon pops, you might also try Ted's Vietnamese pork belly), salads, sandwiches, burgers and entrees (meat-lovers have plenty of options, though the restaurant also offers a Portobello Napoléon). For the kids, there's cheesy mac and "fingers and fries."
— Off The Beaten Plate highlights some of the more exotic, oddly named or inventively concocted dishes from local menus. Know of an offbeat item we should check out? Email reporter Joanna Hlavacek at jhlavacek@ljworld.com. Follow her at Twitter.com/hlavacekjoanna.