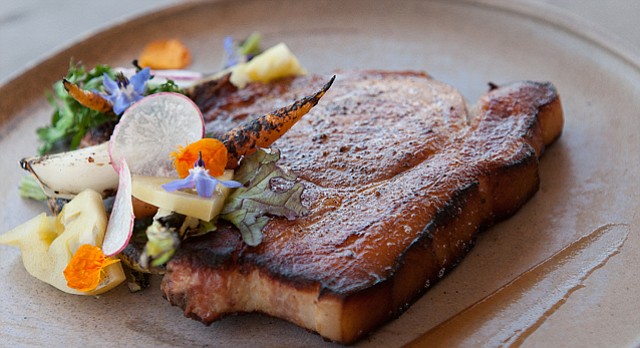 Pork chops are a favorite of Hank Charcuterie owner/chef Vaughn Good's all year round, but he says those cooking the sweet meat at home this summer might need to pay special attention to their pork chops when using a grill.
"A lot of times, people tend to dry out pork in the summer when they cook it on the grill," he says. "Grilling is a pretty aggressive heat source, so your meat on the outside can get done before the inside, which tends to dry the whole thing out."
That's where brining comes in. Good likes to brine his chops in a salt solution mixture that involves, among other ingredients, maple syrup and brandy. He says the brine keeps pork "super moist," even on the grill.
This recipe, courtesy of Good, works for both smoked and grilled pork chops. It's probably best for a bone-in rib chop, but lends itself nicely to boneless chops as well, he says.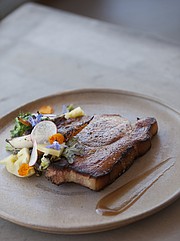 The secret to a perfect chop, says Good, is a thick-cut piece measuring at least 3/4 inches thick. You'll also want to look for a pork chop with some fat reserve to keep the meat from drying out, he advises.

In a hurry? You can always pick up some pork chops already brined and smoked at Hank Charcuterie, 1900 Massachusetts St.
Vaughn Good's pork chop brine
Ingredients
2 quarts water
3/4 cup kosher salt
1/4 cup sugar
4 teaspoons pink salt/Instacure Prague Powder #1 (optional)
1/2 cup maple syrup
1/2 cup brandy
1 bay leave
1 small bunch of thyme
Directions
Combine all brine ingredients in a large pot over medium-high heat; bring to a simmer. Whisk to dissolve all the salt and sugar, then remove from the heat. Allow the brine to cool at room temperature, then refrigerate until chilled.
Add pork chops to the brine. Make sure they are completely covered with brine. Refrigerate for at least eight hours and a max of 12 hours.
Remove from the brine and allow them to air-dry refrigerated for at least one hour. Cook pork chops to an internal temperature of 140 F.