Editor's Note: Journal-World Chief Photographer Mike Yoder and sports reporter Bobby Nightengale are currently providing exclusive coverage of the Kansas University men's basketball team at the World University Games in Gwangju, South Korea.
Gwangju, South Korea — My photography checklist for traveling to South Korea included two camera bodies, three lenses, a laptop, iPhone, a padded floor seat, a pocket point-and-shoot camera and memory cards, including an Eyefi Mobi Pro SD memory card.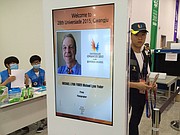 What I forgot to pack were pastel-colored clothes. What?
According to the official media handbook, "Accredited photographers must wear clothes of pastel colors. Bright-colored prints and large logos on clothing are not permitted unless it is covered by the photographer's vest."
I don't recall getting this memo so I'll have to make do with faded jeans and a light blue shirt. This will be the first time I've been scrutinized by the fashion police.
Sports reporter Bobby Nightengale and I did get denied entrance at one security gate, but that was not because I was wearing black rather than soft baby blue. We were just at the wrong entrance. If you watch the games on TV, I may be the rogue photographer in inappropriate clothes. Hopefully the supplied media photo vest will cover up any fashion faux pas. Heck, if I had known about the vest I would have brought a cummerbund and bow tie to complete my fashionable photographer's outfit.
The newest piece of gear in the list above is the Eyefi SD card. It works like a regular 32GB memory card in your camera. What makes this card special is that it enables you to make a Wi-Fi connection between your camera and a nearby iPhone, laptop or other mobile device.
After setting up the password and Wi-Fi connection between the card in the camera and the mobile device, each photo taken will automatically upload and appear on your mobile device. This has been extremely helpful in my work.
I can cover a breaking news event, photograph with my professional equipment and the images download almost instantly to my iPhone or iPad. From there it's a quick Tweet or an email away from transmitting the fairly large digital file to social media sites or the newsroom to immediately post to the Web.
On arrival in the Seoul airport, I spotted about eight young female paparazzi running to shoot photographs of a famous Korean music star. As the star exited the building, all the photographers sat in waiting area near me and were quickly transmitting their photos from their cameras to their phones to tweet out their star shots. They looked like real pros who had been using Eyefi cards for years.