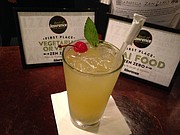 If you're a fan of bubble tea and its gelatinous globes of tapioca, you'll probably enjoy the Tigerlilly at Zen Zero. Basil seeds (not basil leaves) float around the bottom of this Asian-inspired cocktail, which made its debut a few weeks back at the downtown restaurant.
The black seeds are surrounded by a spherical, chewy coating that gives way — when bitten — to a mild flavor that doesn't hit you over the head with basil flavor. What you're left with is a not-too-strong blend of vodka, mango juice, cherry juice, lemon and lime (the Tigerlilly's got a definite citrus-y vibe) and, of course, basil seeds. It's all garnished with a sprig of fresh mint and a cherry.
The hard stuff: Prairie Organic Vodka
Where it's served: Zen Zero, 811 Massachusetts St.
What it costs: $7
Other libations at this location: Can't get enough basil-y beverages? Zen Zero also offers a Thai Basil cocktail made with gin, basil seeds juice (it's a common drink in Thailand, Zen Zero owner Subarna Bhattachan tells us) and fresh Thai basil leaves. The restaurant also stocks plenty of Asian-skewing cocktails, from the Mekong (an Eastern take on the Long Island Iced Tea) to the refreshing Cucumber Bliss to familiar favorites like the Mai Tai and Ginger Horse Feather.
— Drink up. Stay classy. Don't forget to tip your bartender. And let us know if you want to suggest a libation for this feature — email jhlavacek@ljworld.com or Tweet her at Twitter.com/hlavacekjoanna. Cheers.
More like this story on Lawrence.com