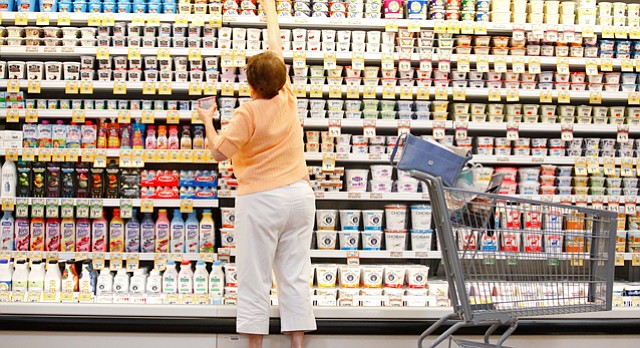 Seven-year-old Maddon Brittingham has rarely met a fruit he doesn't like. He's been fostering an "addiction" to watermelon for quite a while now (according to his mother, Kellie) but decided to branch out last Tuesday during a shopping trip to the recently opened Sprouts Farmers Market at 4740 Bauer Farm Drive.
"I've never seen a papaya in real life or eaten one," Maddon said before checking out the store's papaya selection. "They're so squishy."
The Phoenix-based company, which boasts more than 1,500 organic items and approximately 2,500 gluten-free products in its Lawrence store, is the newest addition to the continually expanding health-food sector of the Lawrence grocery market.

"The neighborhood wanted us to come here. We had a lot of people traveling to the Sprouts store in Overland Park — they asked for it," said Sprouts nutritionist and spokeswoman Janet Little. "We're filling that niche of a healthy food store and affordable prices."
Kellie Brittingham and her son were among the hundreds of shoppers who stopped by Sprouts last Tuesday.
The two have spent the last eight months watching construction take place on the West Lawrence grocer and, by last week, they were pretty excited to see what it has to offer.
As a mother of three, Kellie said it's a challenge to provide healthy, balanced meals — she tries to buy organic and GMO-free products as much as possible — for her family without breaking the bank.
"I like having the variety, and I think it's good to have some competition in town for prices," she said while shopping at Sprouts.
Sprouts, which officially opened July 1, certainly has its fair share of competition. It joins Natural Grocers (another fairly new addition to the market, the store opened about four years ago near 23rd Street and Naismith Drive) and the long-operating local co-op The Merc in Lawrence's roster of natural-foods stores.

That list also includes traditional grocers like Dillons, Hy-Vee and Checkers, which have continued to expand their natural and organic offerings in the last few years.
With four Lawrence locations, Dillons has perhaps the largest presence in the local market. Its store near Sixth Street and Lawrence Avenue is the most recent Dillons in town to undergo renovations — in fall 2013, the store wrapped a $1.2 million project that included a revamping of its natural and organic foods department.
Now branded Nature's Market, the section offers a bulk foods section and Dillons' in-house Simple Truth line, which has surpassed $1 billion in sales since launching two years ago, according to a March report from Food Business News.
The demand for healthier, more wholesome foods is a trend throughout the Dillons territory, which includes Nebraska, Missouri and most of Kansas, said Dillons spokeswoman Sheila Lowrie.
But Lawrence, being a college town and a particularly health-conscious community, has been "ahead of the trend," she said.
"In Lawrence, our customers have been seeking out locally grown, natural and organic products for years," Lowrie said. "We've expanded stores where we can and made renovations in our stores to offer those kinds of products."
The Hy-Vee store on Sixth Street has made similar changes, with its own health-food section doubling in size within the last year. In addition to the HealthMarket's expansion — the section now boasts more than 300 bins for bulk products like grains, beans, nuts granola and more — Hy-Vee has also focused on integrating HealthMarket items into displays and aisles throughout the store.
As part of the renovations, a more visible and accessible office for the store's full-time dietitian has been installed near the customer-service area in the hopes that customers will stop by and ask for healthy shopping tips.
"We believe this is not just a trend, but a way of life for our customers," Hy-Vee spokeswoman Tara Deering-Hansen wrote in an email. "From local products to natural selections, our customers want to know more about the food they're purchasing and feeding to their families."
J.R. Lewis, an owner of Checkers Foods at 2300 Louisiana St., hasn't made any major renovations to his store in recent years. But he said Checkers' longtime inclusion of local products and "niche items" has started to catch on with the larger community.
Over the past decade, the store has slowly increased its health-food market and selection of organic produce.
Lewis said he receives "new requests every day" for organic and natural foods as well as international products for Kansas University's sizable population of exchange students.
A decade or two ago, few people ate hummus, Lewis says. Now, his store offers a varied selection of the garbanzo bean dip, from locally based Lebanese Flower and national brands Tribe and Sabra.
When The Merc first opened its doors just over 40 years ago, seeking out gluten-free products or foods aligned with the Paleo diet might have branded you a health nut. These days, it's just the norm, said Rita York Hennecke, The Merc's general manager.
"We were founded by the Boomer generation, so as time goes by, serving the needs of the next generation has been really exciting," said Hennecke, who speculates that Millennials and younger folks — with their knowledge of the Internet — might have better access to health-focused educational information than previous generations. "We in the industry, of course, know that eating healthy makes you healthy, but in terms of mainstream health, that hasn't always been the case."
Hennecke started working at The Merc just about 10 years ago. Back then, she said, the store had just started selling kombucha. Now, the fermented tea is "everywhere." To this day, The Merc is the only place in town serving locally made kombucha on tap, Hennecke said.
Her store has gone through a major overhaul in recent months, including expanding its bulk department (the section now carries more than 350 mostly organic items), adding a new juice and coffee bar, and increasing offerings in the bakery and deli.
Next month, The Merc clientele will experience yet another change when the store unveils its new logo. She hopes the rebranding — which also includes large-format signage inside and outside the store — will give customers a chance to "take a fresh look at The Merc" when it hosts its grand reopening this fall.
The recent addition of Natural Grocers and Sprouts to the Lawrence market, as well as expanded offerings from conventional grocery stores, has affected business, Hennecke said.
But it has also forced The Merc to make its shopping experience as engaging as possible.
"Since 1974, we've helped build this market to show people what healthy eating is all about through our outreach programs, but that doesn't mean that our job is done and we can close our doors," she said. "The competitors will continue to step up their game and offer more natural and organic (items), but the co-ops are where this movement began, and the co-ops will continue to be the pioneers."
More like this story on Lawrence.com