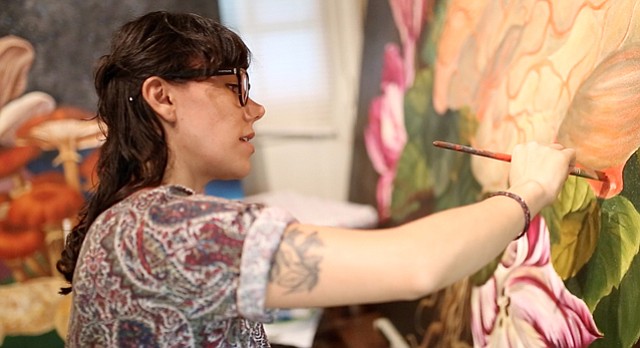 Sometimes all it takes is a little guidance from Charles Darwin — yes, that Charles Darwin — by way of an 11-year-old boy to change one's outlook when things get rough.
Two years ago, Lawrence Arts Center artist-in-residence Valerie Campos and her son, Sebastián, were on their way home to Mexico from Beijing (Campos had just completed an artist residency at the city's Red Gate Gallery) when she learned, at the airport, that their visas had expired.
The trip had already been fraught with obstacles — the hotel charged Campos for a reservation that wasn't confirmed, a situation that eventually resolved itself — and the prospect of being stuck at the Beijing airport indefinitely was enough to push her over the edge.
Campos was just about to cry when her son, ever the science enthusiast, delivered some simple but powerful advice.
"He said to me, 'Mom, just remember what Darwin said: It's not the strongest or smartest who survive. It's the ones who adapt better to their circumstances,'" Campos recalls two years later from her Lawrence studio. "And for me, it was like, 'You're right.'"
'Natural Selection'
Campos, who has spent the past 10 months in Kansas teaching workshops, giving presentations and creating a new body of work as part of her residency, will unveil six large-scale paintings based on that philosophy this weekend at the Lawrence Arts Center, 940 New Hampshire St.
"It was a need to go back to that origin of my species — to go back in time and to question things," says Campos, who was born in Mexico and grew up mostly in Los Angeles. "Why are we here? What are we doing here? How do we really, truly evolve? And what can I take from this theory of the origin of species to really experience a meaningful life?"
The exhibition, titled "Natural Selection: The Pursuit of Happiness," launches with a reception and gallery talk at 7 p.m. Friday. It runs through Aug. 8.
Inspired partly by a trip to the Beijing Zoo (the jellyfish, and their tranquil movements, were a big influence) with Sebastián, Campos' new works explore her own origins, what it means to evolve and how in order to achieve happiness, sometimes we need to look inward first.
If you go
What: "Natural Selection: The Pursuit of Happiness," an exhibition by painter Valerie Campos
Where: Lawrence Arts Center, 940 New Hampshire St.
When: The exhibition opens with a reception, gallery talk and film screening at 7 p.m. Friday. The exhibition runs through Aug. 8.
Cost: Free
At 31, Campos has spent the last decade establishing an impressive and lengthy resume in art — a trade in which she is self-taught — with exhibitions in Mexico, China, Indonesia, France, Spain, Canada and the U.S.
Last year, she founded the Nao Now initiative, which works to foster cultural exchange between Mexican and Chinese artists as well as enriching the contemporary art scene in Mexico.
Selected pieces from Nao Now were displayed at the Arts Center during Campos' residency, which also entailed a series of storytelling workshops with middle school students from Lawrence's Centro Hispano Resource Center.
Campos' experimental stop-motion film "Underground Tales of the Eternal Return," which she produced with help from the Arts Center's Marlo Angell and Ric Averill, will also make its debut Friday night.
"It's distinct from what she's done in the past, but I can see similarities with the work I had seen prior to her coming here," Lawrence Arts Center exhibitions director Ben Ahlvers says of the collection. "I think those similarities are reflected in her imagery — she'll use imagery or iconography that we're all familiar with, and she contextualizes them within the landscape. It's a way to reflect or share her experience in that particular place."
Whereas lifelong Kansans might view "The Wizard of Oz" through jaded eyes, Campos' use of Oz-inspired imagery comes across as fresh — not tired or cliché, Ahlvers says.
In Campos' painting "The Pursuit of Happiness," a young girl stands, clutching her teddy bear, next to a hole carved into the sternum of what looks like a medical illustration of the human body stripped of its skin.
Clad in a short, blue dress, she looks a bit like "The Wizard of Oz" heroine Dorothy Gale — or Alice from Lewis Carroll's "Wonderland" series, for that matter — but she could be anyone, Campos says.
She could even be Campos herself, who grew up on L. Frank Baum's tale and even named her teddy bear — which she still sleeps with — Toto at age 8.
"It was a very important story to me when I was a little girl, because in it, Dorothy and her friends are in search of a brain, a good heart and courage. Metaphorically for me, that means a lot of things in my life," says Campos, who has learned that it takes recognizing painful emotions to fully experience joy. "I've had to use those three things in my life to survive. You can see many Dorothys here and many ideas of the pursuit of happiness."
Campos, who says that she didn't know the meaning of "home" as a child — and still doesn't, because of her frequent traveling — found a place to call home, at least temporarily, with her son here in Lawrence.
But when Sebastián was deported back to Mexico (his tourist visa didn't allow him to attend school in the U.S.) in February, Campos found herself heartbroken.
"For a month, I was just really bad," she recalls. "I'd never been without him for so long."
Everything changed one night, however, during what Campos remembers as a "very weird dream" involving a talking rabbit. The animal, speaking to her in the voice of her friend and Lawrence Arts Center instructor Jeff Ridgway, asked Campos a question that would ultimately give her the motivation to continue her residency and time in Lawrence.
"The rabbit was like, 'So, are you going to give up or what? I think you should just stop now,'" she says. "And I was like, 'No, I'm not going to give up. I'm going to make this happen.'"
Now, with less than a month left in her Arts Center residency, Campos says she's glad she stuck with it.
Confronting all those painful feelings — and coming out the other side — will make her return to Sebastián and Mexico that much sweeter.